Healing - Surgeon in the soul
by Chitra Jha
Everything from cancer to acne can be healed when disease-creating memories are cleansed with the energies of love, compassion and unconditional acceptance, says Chitra Jha

Download PDF Format
Words of wisdom
All healing is first a healing of the heart
Carl Townsend, US Navy officer
Although the world is full of suffering, it is also full of the overcoming of it
More >>
---
Way back when I was growing up, most minor sicknesses were treated at home as mothers had all the time and knowhow to brew various concoctions, make hot/cold poultices, and pound various herbs. Such knowledge was freely shared and practised. The family doctor was visited or called upon only when illness could not be contained or threatened to turn serious. It was almost like praying to God when all else failed. No wonder doctors were treated like gods!

In 1976, I entered the hallowed portals of a multi-specialty hospital (a rarity in those days) as a military nursing cadet with awe-filled eyes. The more I learnt about anatomy and physiology, the more I looked at the human body as a wonderful bio-machine. Gradually, the image of the doctor changed from God to a skilled mechanic who knew how to 'fix' his particular 'organ' of expertise.

Marriage and homeopathy

After marriage, I experienced the 'magic of minimum dose' as my father-in-law diligently and passionately practised homeopathy. The magic bowled me over so completely that I quit my profession and studied homeopathy. The principles of 'like cures like' and 'vital force' resonated with my being, and I switched over my complete allegiance to this far gentler and less invasive way of treating human beings. Since homeopathy does not treat the body in 'parts', the term 'wholistic' became holy in my mind. It was interesting and thrilling to find the right medicine based upon minute observation and study of a person as a whole.



Deepak Chopra: a key player in the wholistic healing field I basked in the comfort of my sweet pills, until the turn of the millennium when my 12-year-old son fell prey to jaundice while studying in a boarding school. My brother-in-law accompanied me to the Himalayan foothills to fetch the ailing boy back home to Delhi. The youngster looked dishevelled as he had not slept for days. He also had a bad headache. As I lamented that I was not carrying my 'magic box' with me, my brother-in-law assured me, "Don't worry. I will send him Reiki." Reiki? Now what was that? And how could one 'send' it while driving a car? Before I could even ask these questions, the miracle happened. My son simply dozed off with his head in my lap.

I came back determined to learn Reiki; and that was a turning point. When you 'feel' energy flowing through your hands, all your doubts melt away. That was my first encounter with 'consciousness'.

I have come a long way in the past 11 years, having experimented with not only Reiki but also EFT, Ho'opono-pono, past-life regression, inner child work, and re-birthing breath-work. All these therapies come under the umbrella of 'Energy Work', but how does the energy work? They say that the proof of the pudding lies in its eating, so the best way to understand energy work is to experience it; but the scientist in me would like to share my grasp of this work, which I call, 'healing at the level of consciousness'.

All-pervading

Consciousness is the unseen principle that is omnipresent, and one with all life; we also know it as 'God'. At first, before creation happened, there was nothing but an ocean of pure consciousness. As consciousness contemplated upon itself through 'first thought', it created itself. It effectively means that we are a part of the consciousness which has manifested itself in matter. The physical body is the most condensed form of consciousness, while God is the most vibrant form of consciousness.

It won't be wrong to say that we have been created through God's thoughts. And since God created us in his own image, we too are given the
| | | |
| --- | --- | --- |
| | | |
| | In his book, Ageless Body Timeless Mind, Dr Deepak Chopra tells us that no cell in our body, except the brain cells, is more than seven years old, as cells keep regenerating all the time | |
| | | |
creative power of thinking. All thoughts come from 'pure creative consciousness' and all thoughts create. Disease and
health
are both created by our thoughts.
In his book, Ageless Body Timeless Mind, Dr
Deepak Chopra
tells us that no cell in our body, except the brain cells, is more than seven years old, as cells keep regenerating all the time. Whether a person is 17 years old or 70 years old, his body cells are anywhere between the ages of 0-7 years! If this is true and it is, then why do we look the way we do? Why do our new cells carry old information of disease and age? This is where my understanding of
homeopathy
principles helps.
In
homeopathy
all medicines are prepared in such a way that by the time the medicine is ready to be dispensed, it hardly carries any 'material substance'. In fact, higher the potency of a medicine, lesser the substance in it! It only carries a 'memory' of the substance and this memory is so potent that it ignites the vital force into action; thus affecting a healing. This principle tells us that 'memories' are indeed potent.
Cellular memory
Our body cells store every single fractional moment of our experiences. Every thought that we think, every emotion that we feel, and every sensory experience that we have, is registered and stored in our cells in a seamless continuum. These memories are continuously transferred to the new cells. The cumulative cellular memories create various nuances of our present personality, including our unique illnesses.
How can we get rid of these stored memories that keep 'infecting' the brand new cells? How do we make this 'conscious shift'? The understanding that we are all made of 'condensed, materialised thoughts' tells us that the power to shift also lies within our thoughts.

Brandon Bays teaches people how to self-heal without drugs
Louise Hay, an influential figure in the self-help movement, lays great emphasis on the power of thoughts. She was given a chance to put her philosophy into practice when she was diagnosed with cancer. That is when she developed an intensive programme of affirmations, visualisations, nutritional cleansing, and
psychotherapy
for herself; and within six months, she was completely healed. She explains that our beliefs and ideas about ourselves are often the cause of our emotional problems and physical maladies. When we change our thinking, our lives get better. Her famous quote is, "Love yourself enough to heal your life."
In her cutting edge transformational and
healing
work, called
The Journey
, internationally acclaimed author, Brandon Bays, teaches how to heal ourselves of all ills; and she should know what she is talking about. In 1992, Brandon was diagnosed with a basket-ball sized uterine tumour. She decided to instinctively listen to her body wisdom and put into practice all she had learnt about nutrition, meditation, guided visualisations, and herbology. To everyone's surprise she completely healed herself in six-and-a-half weeks, without any drugs, surgery or pain.
Singapore-based Anita Moorjani has written a book titled
Dying to be Me
about her extraordinary
healing
experience. In 2002, Anita was diagnosed with terminal cancer, but a fascinating and moving near-death experience in 2006 and her subsequent
healing
changed her perspective on
health
and life. Now, she teaches that our inner world (consciousness) is our primary reality. In a televised interview, Anita asserts, "When I gave myself the permission to
love
myself enough to let the real, magnificent me come through, my body healed just like that. But this choice has to be made out of
love
and not out of attachments."
Besides these well-known celebrities, there are many people from all walks of
life
who have healed themselves from various minor and major illnesses and who continue to evolve their own special techniques of healing. A Mumbai-based writer has found just one such formula. She
| | | |
| --- | --- | --- |
| | | |
| | Brandon was diagnosed with a basket-ball sized uterine tumour. To everyone's surprise she completely healed herself in six-and-a-half weeks, without any drugs, surgery or pain. | |
| | | |
says, "I have an asthma condition. Each time I have chest congestion, I simply bring my awareness to that spot and immediately the phlegm comes up for release. For the last few months I have also been affirming that my body is whole, perfect, and complete. I have shifted focus from 'resisting the illness' to 'appreciating the healthy body'. Even though the symptoms have not fully cleared up, I am hundred per cent certain that this is the only way to go."
Healing the uterus
Naini, a dentist from Kanpur, had developed a uterine fibroid when she was three months pregnant. She says, "The news of the fibroid shook me completely. Being pregnant, I couldn't even take any medicine. I started meditating, connecting with my baby and
healing
myself. Before that, I used to try and guess my child's gender; but in my
meditation
I was told that this fibroid was my body's message to me that I shouldn't indulge in this guess work. I listened to my body's message and after a month when I went for my next ultrasound, the fibroid was nowhere to be seen. Even the doctor was surprised as the fibroid was pretty big; and yet it dissolved on its own."
Marcella Arrieta, an American Energy healer, excitedly shares her most recent
healing
experience. In her words, "As I lay on my bed, on my left side, drifting into sleep, I was asked, "What do you want?" to which I answered, 'To be healed.' Instantly, my body was overtaken by a strong yet gentle force. I was moved flat on my back. My left hand drew upwards to the sky as in a single hand prayer position; while the right hand hovered in a circular motion above my right abdominal area. I could feel the energy enter through my left hand and exit through my right hand. I could also hear the distinct sound of energy. As it entered my abdomen I could feel small rapid, painless strikes on my abdomen, kind of like when lightning strikes. My body was controlled by this energy. I could feel and hear, but could not open my eyes; and my hands went from warm to hot as if on fire. As I struggled to make some sense of what was happening to me, I simultaneously embraced the experience. Three days later, I underwent a scheduled endoscopy and colonoscopy, which showed no disease whatsoever. All my painful symptoms disappeared as well."

A near-death experience changed Anita Moorjani's perception about life
Another American healer, Jazz Javier, writes, "I had asthma. I was in and out of hospitals for years and had to have Salbutamol inhaler and pills in my bag at all times. After reading The Secret I realised that my
positive thinking
wasn't really positive. I changed my thinking pattern, got into hatha-yoga and discovered energy healing. That was the last I heard from my asthma."
Musician Corren Morsnik from Athens, Greece, says, "Most of the time when I get sick it is psychosomatic illness. It happens when I have stress at
work
or feel generally unhappy. I know that the best way to heal is to stay positive and be happy. Along with that, I like to focus on the hurting area and say an intentional prayer. As a musician, my personal experience leads me to the conclusion that improper use of musical frequencies has led to most
health
problems on this planet."
Maida Curtovic, an 'I AM Principle' healer from Queens, New York, affirms, "There are so many wonderful
life
stories that I have witnessed during my
life
as a healer. We can 'empower' something or someone to heal our ailments, but we have to keep in mind that whatever is out there is also within us. I like to walk my talk. For me, living in the now and giving myself full respect and trust does it. I remain healthy in all areas of my life."
Saurabh Goel from Rohtak talks about his cure from depression. He says, "When I was in Std XI, I developed a
phobia
that something would go wrong in my life. I became so depressed that I stopped studying, eating and sleeping. But I talked myself out of it. It was a talk between the two Saurabhs inside me. I became a silent observer of this conversation. That's when I turned to
meditation
and emptied my mind of all thoughts. I didn't allow any thoughts in my mind, and within a month I recovered. The new Saurabh that emerged is a strong and determined person."
Neeta Sharma, the founder of Anjul Jyoti, a wholistic
health
centre in Delhi, relates her story, "There was a sudden shooting
pain
in my right upper jaw. It was unbearable, so I decided to see a doctor, who immediately ordered a CT scan.
| | | |
| --- | --- | --- |
| | | |
| | "When I gave myself the permission to love myself enough to let the real, magnifi cent me come through, my body healed just like that." | |
| | | |
While waiting for my turn, I kept channelling
Reiki
to my jaw. Later as I was about to slide in for the scan, a flash of bright light covered my head and chest area. At that moment I knew that doctors won't find anything wrong there and sure enough they couldn't. After sometime my
pain
disappeared on its own."
Walk of healing
Ajay, a friend of mine, tells this story about an Australian named John whom he met in Bangalore. Five years ago, John suffered from some bone disorder and the doctors declared him incurably disabled. In order to defy the doctors John just walked and walked from town to town for over 1000 kms and this walking cured him completely. He is 71 years old now and trains people in Neuro-Linguistic Programming.
Mumbai-based Sesheido Almata, healed herself of a bi-polar disorder using past-life regression,
homeopathy
and meditation. She says, "My life allowed me to experience both my polarities to extremes. But now I am my own master, enjoying the sunshine in my life. This is my constant affirmation and so it is."
All these miraculous stories tell us that there is a lot about the healing process that we don't know and are still learning; but as long as we remain open-minded sceptics and judge these instances of healings by their fruits, there is hope for us. And the good news is that many medical doctors are beginning to take note of these truths as well. Zurich-based Dr Yves E Patak is one such physician. He says, "As a physician and classically trained scientist, I have become increasingly aware that pharmaceuticals and other allopathic therapies often treat only the symptoms of a disease. Antibiotics are undoubtedly vital in the treatment of an infection, and surgical procedures can save the lives of accident victims or treat life-threatening conditions; but I believe that many forms of diseases are triggered by our thoughts and emotions."
Illness enters our body only because of our limiting beliefs. These could be beliefs in lack, isolation, separation, or extinction. Once beliefs of helplessness and vulnerability get formed, they attract a whole gamut of thoughts and resultant experiences which further reinforce those beliefs. An illness is an experience born out of the basic fear that something is wrong. This fear creates a baggage of unresolved issues, which settle down in our body tissues. Hence, an illness is nothing but a combination of 'issues in our tissues'.

Marcella Ariatta shared her amazing enegy healing experience
As soon as we entertain thoughts that are not in alignment with consciousness, we become ill at ease. Such thoughts disturb our balance, sense of calm,
peace
and health. Our thoughts are usually accompanied by emotions, but we do not always express them. These suppressed
emotions
become stagnant and crystallise into frozen blocks of charged energy. Most of us carry a large number of such frozen energy blocks in our aura. When these energy blocks become very heavy, their low vibrations start interfering in the smooth functioning of the physical body. Every illness is caused due to an energy imbalance. The bacteria and virus can attack a body only if there are energy holes in its aura. The path of all illness is the same irrespective of the
nature
of each illness. Ignorance of the real cause of an illness feeds its power over us. We create each illness and only we can heal it. Every illness is a wakeup call from the body, and the body doesn't rest till we are back on track.
Body speaks
Our body 'speaks' to us through the language of sensations. Every bodily sensation is a conversation the body tries to initiate with us. When the sensations are pleasant, we feel good; and when they are painful we either ignore them or suppress them by various means, including popping a pill.
An illness is our body's way of telling us that we have gone wrong somewhere, something is amiss, and we have made a mistake in understanding life. It tells us that our current view of reality is not in alignment with our true self, which is spontaneous, loving, joyful and abundant. The more chronic or severe the illness, greater is the deviation in our beliefs. The
healing
happens only when we change our beliefs. Greater the illness, greater the need for change!
The most important change is needed in our attitude towards illness. An illness is not, under any circumstances, an unfavourable condition. It is at best a trigger that we have installed within our system to lead us back into alignment with our true identity.
| | | |
| --- | --- | --- |
| | | |
| | "As I lay on my bed, on my left side, drifting into sleep, I was asked, "What do you want?" to which I answered, 'To be healed.' Instantly, my body was overtaken by a strong yet gentle force." | |
| | | |
It is the
creativity
of our spirit that designs the circumstances of our
life
to make us learn the most important lesson that true
healing
always comes from within. An absence of illness indicates that given the present circumstances, we are on the right track of life.
In her bestseller, You can heal your life, Louise Hay offers understanding and affirmations for all ills, based upon the premise that our body communicates with us through illness and each illness can be a positively liberating experience if we look at it as a message from the spirit. The truth is that if we all really understood the 'spirit', probably all doctors and healers would go out of business!
Healing lies in paying attention to body parts that call out for attention, having an intimate conversation with that part and understanding the message that it wishes to deliver. In other words, when the body manifests a symptom, taking medicines to make that symptom go away or replacing that organ through surgery does not truly resolve the problem. If the message is not properly understood, the very same symptom will manifest in some other part of the body. How many organs can we remove? How many pills can we swallow? All we need to understand is that the shortest route to
health
lies in conversing with our body, because our mind may fool us but the body never lies.
The body is our best friend. It draws our attention to it only if it wishes to convey something for our benefit. Through a pleasant sensation, it lets us know that we are on the right path. Through uplifting sensations it conveys a message of approval. And through painful sensations it issues a warning that we are out of alignment with our true nature. There is so much information that our body is carrying. There is so much that it wants to tell us. There is so much that it wants us to know. The only way our body can get through to us is through itself. If we wish to achieve a state of wholeness, we have to listen to it, and listen very closely.
Wholistic approach
The body is not a compilation of a number of independent functioning organs. It is inextricably linked with mind, soul and spirit. Hence, an illness can no longer be viewed as a malfunction of some organ, which can be corrected, replaced or removed. Each body cell carries a blueprint of entire consciousness in all its variations, including absolute perfection. It is only our thought waves or points of view which determines our view of reality in a given period of time. When our point of view is not in alignment with
health
and well-being, the cells project that non-alignment in our experience through
pain
and discomfort. However, at all times, even while we are suffering from a disease, a healthy view co-exists simultaneously in our cellular memory. It is only when the thought of becoming 'whole' becomes the very
life
force in our cells that the soul gradually changes the programming in the cellular structures, uncovers the stored
memory
of illness and releases it from our system.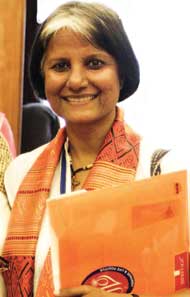 Chitra Jha is a life skills coach,
corporate trainer and verbal
ability instructor.
Since all illnesses are caused out of fear, it stands to reason that health can only be created through love. Since fears are created through unresolved issues, it is only logical to think that resolving those issues will create health. Since issues are created by the thought that something is wrong, their resolution demands the thought that everything is all right. And we can truly feel 'all right' when we
love
ourselves enough to accept ourselves in our totality; warts et al. In other words,
healing
is truly a process of returning to 'wholeness' and a healthy human being is always in alignment with his/her identity as consciousness. The natural and aligned state of our being (body-mind-soul-spirit) is perfect health.
Limiting beliefs
Complete
health
cannot be regained unless all our limiting beliefs are uprooted.
Healing
is the process of returning to wholeness, remembering our pristine origin in 'pure consciousness.' If we consistently hold a desire to have a healthy body and a healthy mind, our consciousness will bring the required know-how within our awareness. We only have to trust the process.
Health is a condition that arises from being consciously centred in our true identity. We become whole when we take hold of all our understandings and focus them upon ourselves with deep and complete love. That is when
peace
dawns. The more peaceful we become with our life, the higher we vibrate and healthier we become.
Healers and doctors can only support us in this journey of self-discovery but they can't heal us. Finally, each one of us has to do our own healing.
How do I heal myself? Since I belong to the army fraternity, I like to command my cells to heal themselves and like faithful soldiers, they obey!
See more articles on
Healing
:
http://www.lifepositive.com/Articles/Healing
Reader's Comments
Subject:
Wonderful Article
- 24 July 2012
Dear Chitra Madam, This is wonderfully written artcile and provokes your thought process about modern day medicines. However, you can not beleive anything unless you expereince something by your own. Do you organise any workshops in UAE? Please let me know, I will be interested in attending
More...
by:
Yogen Shah
Chitra Jha replies: -24 July 2012
Thanks for connecting Mr. Shah. I havent had the opportunity to conduct a workshop in UAE so far :)However I offer online one-to-one coaching/ guided meditations. In case you are interested in my work, please write to me at chitrajhaa@gmail.com. Thanks a lot once again for your kind words!
Subject:
Surgeon in the soul
- 15 June 2012
Amazing and very true.
by:
Mona
Chitra Jha replies: -15 June 2012
Thank you Mona....:)
Subject:
Gratitude
- 18 May 2012
Its everything that my thoughts are about...wonderfully integrated healing manual..hope to learn more from you. Regards n Gratitude Col S K Joshi
by:
Sushil Kumar Joshi
Chitra Jha replies: -19 May 2012
Thank you for your kind words Col. Joshi
Subject:
Surgeon in the soul
- 21 April 2012
Very beautiful article for people with no knowledge about holistic healing.
by:
Sheetu
Chitra Jha replies: -21 April 2012
I am happy that you like it Sheetu.....Thanks...:)