Alternative Education - Not by bread alone
by Nipun A Jacob
WE-ASC World Education Culture Congress met in New Delhi to discuss ways and means to introduce holistic values and culture into present-day education

Download PDF Format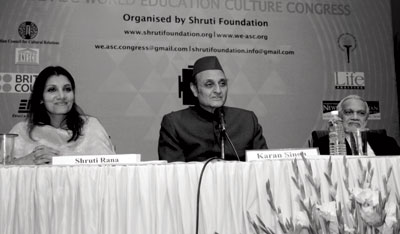 Malcolm Forbes, the publisher of Forbes magazine, has famously said that the purpose of education is to replace an empty mind with an open one. It is with this ideal of providing an education that creates all-embracing minds that the WE-ASC World Education Culture Congress was held at Teenmurti Nehru Memorial Hall and Museum in New Delhi recently. Inaugurated by Sheila Dikshit, chief minister of Delhi, the congress brought together progressive thinkers and leaders across the world to mull over the challenge of developing holistic teaching for socio-economic empowerment and sustainable development.

Following the congress, participants met at the India Habitat Centre to discuss the accreditation and evaluation system in India and the relevance of a holistic approach to formal education and traditional systems of learning.

Organised and hosted by Shruti Foundation in collaboration with ICCR, Ernst & Young, UNESCO, British Council and Life Positive, the mega event was convened by Lady Shruti Rana. "We cannot discount the existence of unanimity in all disciplines whether it is mathematics, music, poetry, philosophy or psychology," she observed.

Emeritus professor at University of Westminster, Lord Bhikhu Parekh, explained that man is at the centre of nature and knowledge. "Education is a cultural process that sharpens the ultimate intellect of man," Lord Parekh pointed out.

Dispeller of darkness

MP Dr Karan Singh, who delivered the presidential address, pointed out the necessity for developing curiosity. "Knowledge liberates us from violence, hatred, and fanaticism. The capacity to ask questions should be developed in each and every individual because one of the signs of a keen intellect is the ability to ask questions. Greed and anger are as lethal as any incurable disease and education helps us to deal with all these problems," Dr Singh said.

He added that the Divine could not be reduced to one form. "No one religion can have the monopoly of the Divine. We need to know how we are to maximise our inner potential. Our body is the temple, a facility and an entity where God resides. Our body is a vehicle carrying good thoughts of kindness, love, care and optimism," he added.

Eminent classical dancer Dr Sonal Mansingh spoke on the cultural and traditional approaches to psychology and consciousness in the light of the Vishnu Purana, and on the importance of incorporating dance into the curriculum.

"Dance is the ultimate teacher and body, mind, spirit gets combined in dance. What lies in the universe is within us. We can't afford to ignore the body because body consciousness comes first in our journey to wholeness. Every gesture of the body conveys a special meaning," she said.

"A seeker or a student ought to have complete concentration and should be ready to leave the luxuries of life in search of wisdom. Like a dog that never snores in sleep, a student or seeker should be alert all the time, ever ready to pick the word from his guru," Mansingh added.

Globalised world

Harshvardhan Neotia, chairman, Ambuja Realty Group, quoted Swami Vivekananda. "The Self can't be realised by a physically weak person. Within man lies all knowledge. We just need to awaken it."

Speakers also commented on educating Indian children in the globalised world with the help of new media like the Internet. Journalist Kishwar Desai said that we should broaden the horizons of knowledge for our children. "We need to integrate the great narrative stories, oral storytelling, dance, music and poetry in our current educational system to make it more enjoyable," said Desai.

Reverend Valsan Thampu, president, St Stephen's College, explained that the present generation of children was losing out on values in the mad pursuit of the best education possible in the best institutions. He pointed out that there is a big difference between word and meaning, information and knowledge, literacy and education. "Students should be focusing on becoming research-oriented rather than merely collecting degrees that hold no significance without values. Many students are asking why they can't turn their hobby into a profession," he said.

Reverend Thampu said that evaluating parents, institutions and teachers was the need of the hour. "Parents are not bothered to know how their children can become good human beings. History remembers those who bring about changes. We need to change the composition and interrogate the idea of education provided we are willing to pay the price for it," he said.

Spirituality and education

Yoga instructor and Sanskrit teacher Anuradha Choudhary emphasised the need for a guru. "The guru helps us to remove basic ignorance. The guru has already seen the light, so he can show others the way to the light. The guru helps the individual realise his true potential," Choudhary said.

Professor, Entrepreneurship, at the University of Applied Sciences, HAN, Sharda Nandram, spoke on the role of spirituality in business. "We need to think about how we can equip Indian youth with vocational skills. The best leaders are those who are flexible and ready to adopt changes. The purpose of our existence lies in a deeper symbolic meaning of the ancient texts. Life is a 'yagna' that symbolises an offering or a sacrifice. Fire burns upward so one has to light that agni or will in oneself. Through Vedic psychology one can get insights into the game of life and become a better player," said Nandram.

Dr Tejinder Walia from the President Vidyadan Foundation for Education from Panchgani, Maharashtra, brought out the role Upanishads can play in improving the education system. "There is no sense of sacredness, or harmonising of energy in the education system today. Our mind starts behaving as if we have all the answers and we get stuck at the level of intellect. The Upanishads untie our knots at the psychological, physiological and spiritual levels and teach us to rein in our intellect," said Walia.

Dr Anice George, dean, Manipal College of Nursing, spoke on the importance of introducing yoga in the curriculum. "Yoga is a winner because of its holistic approach. It has to be integrated into the traditional knowledge system. After all, today's girls are the mothers of the future," George said.

Mridula Mukherjee, the director of Nehru Memorial and museum, said that lessons from India's struggle for freedom could help us resolve present-day conflicts. "We did not win independence from the British through violence. You have to build or guide the conflict. We all have conflicts; listening to each other can resolve the conflicts." She explained that Gandhiji drew his strength from his spiritual force. "He never lost his patience, never got caught up in petty games and never advocated wrong means," she said.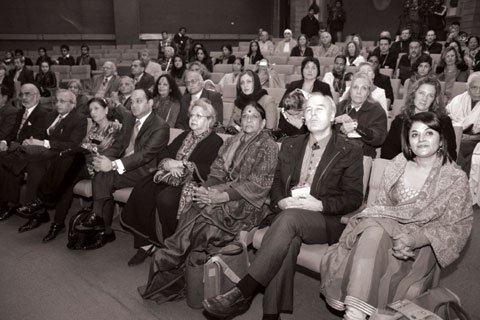 An enrapt audience listens to the stimulating exchange Don't teach, facilitate

Tatjana Koke, former Latvian education minister, explained that modern teachers need to become facilitators. "The education system should be made more flexible and inspiring for both student and teacher. We must develop our students' imagination and teach them to heed the advice and experience of their parents. As Gandhiji said 'What if a child learns everything but does not know the value of brotherhood?'" Koke asked.

Speaker after speaker spoke on the difference between education and learning, and the importance of going beyond disciplines like mathematics and numbers. "We try to manipulate the numbers but when we are looking at a tree, or a flower we interact with nature. There is a connection between us and nature that allows us to see the beauty and in turn it enriches us. A child has enormous capacity for asking questions, so we need to keep a check on the kind of programmes our children see on TV that are often full of violence and negativity. We need to encourage the children to look at the beauty of nature instead," said Union Minister for Human Resource Development, Kapil Sibal.

"It is a teacher's responsibility to identify a child's competencies. This calls for a lot of communication from teachers as well as parents," he said.

Sibal said true democracy included the right of a child to choose his way forward. "We need to change the mindsets of teachers and parents who succumb to the pressures of this competitive world and try to realise their own dreams through their children," Sibal said. Meghna Oza, manager, Creative Arts, Dream a Dream, a trust in Bangalore, spoke on how poverty, caste and gender affect access to education. "Different forms of art like dance, theatre and painting have been used to bridge this gap in many countries. It has been found to be very effective in combating depression, fatigue and stress," Oza said.

Professor and author Madhu Khanna of the Jamia Milia University described how yogic and tantric traditions are linked with consciousness. "Shakti lies latent in each of us. We are a huge battery of energy. This 'shakti' is located at the base of the spine and the crown of our head symbolises Shiva who represents grace. The microcosm and macrocosm are interconnected and interlinked," she said.

At the end of the congress, it became clear that the issues at hand were too complex to be concluded in just three days. Everyone agreed that the effort to introduce culture into education would have to be a sustained one.

See more articles on Alternative Education : http://www.lifepositive.com/articles/AlternativeEducation

Reader's Comments
Subject:
re
- 11 January 2012
I want to thank your
resume creator
for such an article who helps to find the sense in my life
by:
Sherley