Alternative Education - Schooling for life
by Nipun A Jacob
Nipun Augustin Jacob visits L'avenir, a preschool in Gurgaon, where children are given a holistic education in an environment of love, acceptance and encouragement.

Download PDF Format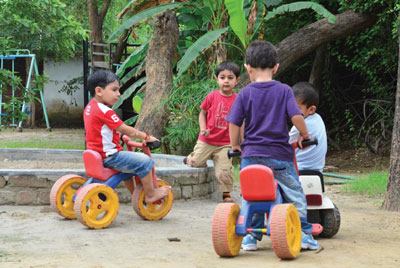 L'Avenir : A sancturary for little souls to evolve freely, in a caring atmosphere. I still remember a class in my school when we were asked to share how we celebrated festivals. Unlike my classmates, I was unable to put into words the vivid pictures revolving in my head about Christmas. Deeply mortified, I burst into inconsolable tears when my turn came. Despite my anguish, I did not hear a word of encouragement or motivation from my teacher. The incident scarred me deeply. I felt utterly devastated when my classmates laughed at me. A fear of social disgrace and rejection haunted me for quite some time.

Years later, I began to recognise my strengths when an English teacher acknowledged my handwriting, and ability to read loudly and clearly. My shattered confidence began to mend. But it all ended in a longing for teachers and schools that would help students unburden and set them free. My wish found fulfilment when I visited a pre-school in Gurgaon named L'avenir (meaning the future, in French). As I spent half a day with the tiny tots, teachers, and parents of the school, I discovered a place of vibrance and joy, of appreciation and support, a safe space for children to open up and learn, which is what any school is meant to be about.

Parent speak

Phalguni Freeman, mother of Anushka, says, "I wanted Anushka to grow and learn directly from nature, and be with children of her age. Anushka is a quiet child. She does not share much about the school. However, her behaviour showed that her qualities were acknowledged and nurtured here. What strikes me most is that teachers let children be what they are. Here teachers protect, help, and guide. They do not push ABCs on a child to achieve materialistic learning. Above all, the environment of the school is serene and the staff is so warm. Everybody sports a welcoming smile. There is so much peace here. I did not know when she started recognising colours and learnt rhymes."

Manisha was so happy with the school that she became a repeat parent (her elder daughter studied here). She says, "Myra is now six years old but she still misses the old school. Now my three-and-half-year-old son, Damian, is studying here.
| | | |
| --- | --- | --- |
| | | |
| | A poor teacher tells. A good teacher teaches. An excellent teacher demonstrates. An outstanding teacher motivates. | |
| | | |
It is a great
community
of like-minded people. My positive experience with my first-born in this school was the deciding factor in enrolling my second child too, here."
Supreet Kaur, mother of Sachkrit, said that her son fell in
love
with this place. Unhappy in restricted places, he revels in the freedom to run around and play. Says she, "Sachkrit is comfortable, and at peace. When I was given a tour of the school, I instinctively felt that I had come to the right place, and I have never regretted my decision." "Bringing my daughter, Anee, here was just a response to my gut feeling," says Ruchika Goel, "There is a big change in her personality since she started coming here. She loves it so much that she feels sad that the school is closed over the weekend. She enjoys natural beauty, and loves sport activities, so it suits her. The school adopts a step-by-step gentle procedure to nurture the child. I must mention that they allowed me to sit in the class initially until she got comfortable with the environment. No other school does it."
Vipul Malhotra, father of two-year-old Vihaan, says that while many children have to be coaxed into attending school, his son wakes up happy, and excited to go to school. "I see some positive changes in him. He has learnt the importance of sharing, and the entire credit goes to the school. The school has ensured that he is growing with the right set of values, and consequently we feel that the institution is like a part of the family."
Kanchi and Nitin Nangia acknowledge that L'avenir helped their son Arjun weather the trauma of sibling rivalry when their twins were born. "Our Arjun is a quiet and shy child. When our twins were born, the teachers, Sunaina and Anuradha, saw a sudden change in Arjun's behaviour. Through encouraging him to excel physically and also mentally, they helped to erase his anxiety. The teachers know the delicate art of handling a child. The learning that takes place is visible, and lays the foundation for a strong and stable character in later life," echo the delighted parents.
What parents notice is that children begin appreciating nature, an aspect that is almost absent in other conventional pre-schools. The emphasis is on refinement of senses and character through exposure to beauty, at the physical, emotional, and mental levels. The children are encouraged to be in touch with their innate sense of goodness and inner discipline, and not to become dependent on and be circumscribed by outer discipline.
Sensitising the child
Today's child opens his eyes to a world that is immersed in advanced technology, but L'avenir makes sure that a child's innate sensitivity to the world around him stays intact.
Their inborn sense of curiosity and
creativity
is encouraged at all levels. For instance, children are not terrified of spiders or grasshoppers. Instead, they want to make friends with the creatures. Richa Kulshreshtha's son was here for two years. He is eight years now. "He was a sensitive child, and when he was scolded he would get disturbed, and behave violently with the animals around. Working on him at multi-levels helped him to stabilise, and become the loving child that he essentially was. He still remembers his peer group of the school, and has grown to be a wonderful boy, for which the school is wholly responsible. I cannot thank them enough."
Teachers at L'avenir believe, 'A poor teacher tells. A good teacher teaches. An excellent teacher demonstrates. An outstanding teacher motivates.'
The school stands on a vast tract of land with large buildings containing all the amenities. It operates from a belief in morals, values, and ideals. The teachers at L'avenir are called didis. Sunaina Singh has been working with L'avenir since 2002. Says she, "Children have a different world of their own. To understand their world, one needs to see oneself as a child, and go into their world of unconditional love, fun, patience, purity, and freedom." Sunaina was
seeking
her inner growth when she joined L'avenir. What keeps her motivated is her
love
for children. Every day is a new day for her as a teacher to explore with the children. Says she, "I feel like Alice in Wonderland!"
The teachers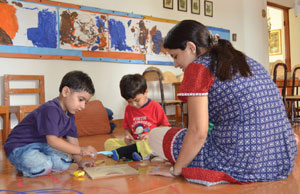 Children exploring their abilities under their mentor's
gentle guidance
Sunaina says, "It was my inner desire to be with kids, and I am sure I was guided by the Higher Force. We reflect on the child's progress on a daily basis, so that we can give correct data to the parents. When I write a weakness report of the child, I also report his growth in other areas. The quality of a teacher is likened to a yogi. The quality of spontaneity, the children gifted me. They have what we lose during the course of our growing-up years. Children make me conscious of my activities and approach."
Trisha Chhabra, another teacher at L'avenir, was profoundly inspired by the Mother and Aurobindo. She left her banking career to respond to her calling to teach. She says, "La'venir is heaven on earth. I do not look on it as just another job. I cannot think of working anywhere else. This place helped me overcome obstacles in my personal
life
as well. My husband has noticed a great change in my personality. Here we encourage children to share and give space. My mindset has changed. I am more compassionate now."
The founders
Ameeta Mehra, Ritika Goel, and Anuradha are the founding trustees of L'avenir. The school was started to provide integral education, to raise consciousness levels, and inculcate a positive attitude in both children and teachers. Anuradha says, "It does not matter if a teacher has a B. Ed degree or Ph.D, they should be
seeking
change in the children. Infrastructure is not difficult to generate. But to abide by consciousness is mandatory." She adds, "L'avenir is part of a larger venture; it derives inspiration from
Sri Aurobindo
and the Mother's philosophy, which maintains that education to be complete must have five principal aspects relating to the five principal activities of the human being – the physical, the vital, the mental, the psychic, and the spiritual. There is no hierarchy in the school. Many teachers are here to develop their own consciousness and attitude. Our teachers are unique. They are on the path of overcoming their own weaknesses. With this endeavour we try to evolve a curriculum where there is no violence, no aggression, and focus is on the mind."
I expressed my heartfelt thanks to the teachers for providing such an amazing environment to the children. If I had had access to a time machine I would have gladly travelled back to study in such a school, which offers space to young children, and combines the warmth of growing up in an atmosphere of love, with the joy of discovering oneself, and the world around them.
See more articles on
Alternative Education
:
http://www.lifepositive.com/articles/AlternativeEducation