Book Reviews - A Journey Of The Self
by Nandini Murali
The Camino, Author: Shirley Maclaine, Published By: Simon & Schuster Inc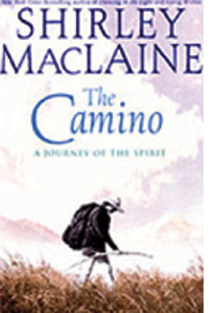 A Journey Of The Self El Camino de Santiago or The Way of St James has been a popular Christian pilgrim route since medieval times. The pilgrimage spans a 500-mile route from St Jean pied de Port in France to the Cathedral of Santiago de Compostela in Galicia in North Western Spain. When celebrity Hollywood actor and spiritual writer Shirley Maclaine undertakes the Camino, she elevates the padayatra or walking pilgrimage into an exquisite exercise in exploring human consciousness.

Maclaine's pilgrimage is sparked off by two anonymous letters that implore her to take the arduous trip. Then in her mid-sixties, Maclaine embarks on an odyssey of the Self and completes the 500-mile trek in just 30 days! The book makes for engrossing reading thanks to the author's skill in blending travelogue narrative, factual information, reflections and spiritual insights that glow with the iridescence of the rainbow and are as graceful as a flowing river. For instance, Maclaine tells readers that the Camino's geographical location lies along the path of the Milky Way and it follows the ley lines that reflect prana or life energy from those star systems above it. According to Maclaine, "this energy emanates at a very high frequency and when experienced by a human consciousness, induces clarity of thought, experience, memory, and revelation."

Her sensual writing makes for experiential reading. The constraints of the refugios or shelters and intrusive trailing by the paparazzi, the people she befriends on the Camino, her spiritual visions and dialogues with ascended masters, and the trials and tribulations that dog her at every step come alive in the pages. Yet what could have degenerated into a triumph-of-courage story is adroitly transformed by Maclaine into a journey of the soul through a continuum of time in which past, present, and future are a cyclical loop. In doing so, the journey heals and empowers Maclaine as she reflects and relates her past lives with her current reality.

The Camino is a metaphor for an interior journey. Maclaine's insights into the interface between gender and spirituality have her hallmark courage and honesty. Insightful, and perceptive, The Camino is an offering from a woman journeyer who has the courage to step beyond the known and appraise universal truths, emerging as a seeker in the tradition of spiritual feminism. For both Maclaine and the reader, doors open within that enable one to view individual consciousness against a backdrop of transcendental universal consciousness: a satori experience that is simple and profound. The last line in the book, "The absence of evidence does not mean evidence of absence" is one of the most memorable last-liners I've come across.