Book Reviews - A cosmic adventure
A Journey within the Self - A Saga of Spiritual Experiences, Author: Deepa Kodikal, Published By: Viva Books Pvt Ltd, Pages: 331, Rs 295.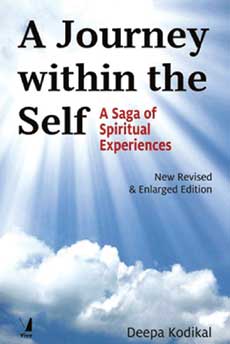 Here is a new revised and enlarged edition of one of my favourite books, Deepa Kodikal's A Journey within the Self.

When I first read it, soon after joining Life Positive, I was amazed that such things could be. Deepa talks of mystical experiences completely out of my line of experience: of sinking deep into nirvakalpa samadhi, a state in which the body becomes corpse-like and inert to the extent of turning ice-cold; of experiencing God's state of consciousness, of being part of the dissolution and creation of universes and other cosmic phenomena. Not since reading Paramahansa Yogananda's Autobiography of a Yogi had I found a book that seemed to throw such a powerful and authoritative light on matters cosmic and mystical.

In the introduction itself she talks about how as a youngster she could shift and change her dreams at will, which began with consciously standing still when chased by a group of gypsies. Experimenting, she found that she could enlarge certain details, make darshans of temples she had not been to and attend events like marriages that she had missed – all in her dreams!

Even though she appeared to have been of a particularly pure nature, marriage immersed her in the mundane tasks of running a household and rearing her three young daughters. Her husband, Raja, was the seeker of the family and it was when she visited his guru that her spiritual adventure unfolded. The satguru promised them a son of celestial brilliance. After much thought she and her husband decided to have a fourth child and that opened up the cosmic domain. Strangely, even after the child, a girl(!) was born, her experiences continued and indeed escalated, eventually culminating in enlightenment.

As one goes further into the book, not only are we exposed to profound spiritual experiences but also to deep and impenetrable truths about, for instance, the nature of God.

While in a state of union with God, she noticed an elder in the family being unfair to someone far younger. She bristled at the injustice and she found the power within her bristling too. At once she was cautioned by an inner voice, "Compose yourself! Bear in mind control of the self is the first prerequisite. Always remember that restraint is the most powerful weapon. The Lord is non-interfering. He watches on, only as a witness. He allows every soul freewheeling options, to be rewarded or punished by its own actions. The Law of Karma misses nothing."

I found this to be a fascinating book and I heartily recommend it to you.