Book Reviews - A glimpse into another world
Another Way to Live; Author: R L Kapur; Published by: Penguin Books; Pages: 205; Rs. 339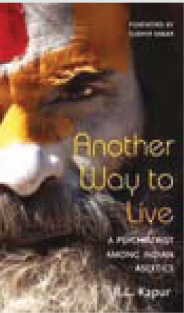 Synthesis is the spirit of our times, and this is reflected in the area of psychology as well. Increasingly therapists, analysts and psychiatrists are crossing the threshold of spirituality. One such is psychiatrist R L Kapur. Intrigued by the number of people in India who visit ascetics to treat psychological problems like schizophrenia, he decided to explore their world in totality. Venturing into the Himalayas to encounter yogis, seers, sages, philosophers, intellectuals, artists, visionaries, for a number of years, this book is the culmination of his discoveries.

On Patanjali's Yoga Sutras, he expounds the yamas and niyamas and analyses how that could free people from misery. On Sankhya, he says, "Samkhya philosophy says that the aim should be to bring the prakritic elements into balance, thus allowing purusha to stand out in relief, untainted by prakriti." He also gives an explanation on the concept of what a true guru's role is. A guru, according to him, is not one on a pedestal but one who is a friend, philosopher, and guide and helps through complete empathy. Contrasting the western approach with the various schools of eastern philosophy and practice, he gives us an unbiased, objective view of both, leaving us to draw our own conclusions.

Unfortunately, the author is no more, due to an untimely death, but his wife, Malavika Kapur, with the help of Dorothy Buglass, took his copious work and got the volume published. "At a time when people are looking for states of being that go beyond the mere absence of emotional distress, Ravi (RL Kapur) had the courage to look into our own Indian traditions that have held the promise of well-being, even ananda (bliss)", says Sudhir Kakar in his foreword to the book, and appreciates his wife and Dorothy Buglass for bringing out the book.

One wishes that he had explored spirituality in places other than the Himalayas, too, but even so, the conclusions he draws are valid. Ultimately, this is a journey which many of us would like to take but are not able to, sometimes for practical reasons, sometimes due to preconceived judgments.

Kapur gives us and the world, the next best option – that of getting an objective glimpse into the mind of ascetics and gurus and their driving philosophy by reading the book.