Book Reviews - A guide to the goddess
Little Monk's Durga, Author: Gauri Kelkar, Illustrations By: Tapas Guha, Published By: Wisdom Tree, Hardbound edition, Pages:58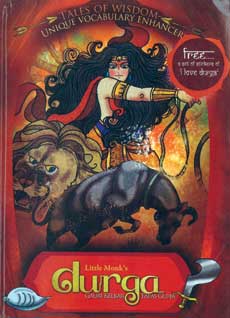 This book is part of Wisdom Tree's imprint for children – the Little Monk series, which introduces children to members of the Hindu pantheon.

As one who has only a hazy idea of Indian mythology, I was delighted to read this simple but comprehensive narration of the birth of Goddess Durga and her many triumphant battles with evil.

The thing with mythology is that beneath the tales, lurk profound truths that help us comprehend life.

Take the birth of the goddess. The gods have been defeated by the mighty demon, Mahishasura.

Eventually, they flock to Lord Vishnu for counsel and he tells them that since the demon had earned a boon that he could not be killed by either man or god, the gods must create a goddess born out of their collective strength and powers. Even as he spoke, his face was illumined by a great light, as were the faces of the gathered gods. Soon the great lights merged and formed a mountain of fire out of which emerged the formidable Goddess Durga!

What an amazing vision of how creativity happens – a spontaneous emergence from the flame of thought. And how true!

And what about the phenomenon of demons getting boons because of spiritual practice? How true that is when we think of the exceptional personalities many of our despots and dictators like Hitler and Stalin were blessed with.

The book plots Goddess Durga's battles chronologically from Mahishasura to Shumba and Nishumba, Dhumralocahan, and Raktabija. The goddess's many avatars, from Kali to Parvati to Mahamayi and Lalita all find mention. And surely that phenomeon reflects a great psychological truth too? Which of us has not felt a righteous Durga or wrathful Kali stirring within us in moments of extremis?