Book Reviews - A handy allergy alert
by T. A. Basubramanian
Living with Food Allergies, Author: Alex Gazzola, Published By: B Jain Publishers, Pages : 178 pages, Paperback, Price : INR 99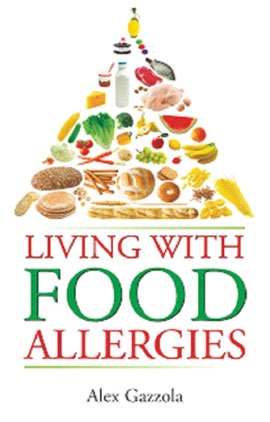 Most of us have been afflicted with the general malaise called an "allergy" at some time or the other, and some of us have specific food allergies that, depending on our life choices and environments, may choose to torment us to varying degrees.

"In the medical world, allergy receives very little attention," says the author, Alex Gazzola, in the introduction. As a writer and researcher, he should know – he has devoted over 12 years to provide valuable knowledge on food sensitivities to places where it is most needed. The grim statistics related to India that he cites are an eye-opener. "In the last 10 to 15 years, there has been approximately a five-fold increase in adverse reactions to foods such as nuts, fish, cereals, milk, eggs and – increasingly – raw fruits and vegetables. Estimates suggest up to three per cent of adults and up to six per cent of children now have food allergies. Food allergies cause about 30,000 emergency treatments and 100 to 200 deaths per year." Gazzola points out that a lot of allergy medication is unavailable in parts of Asia and Africa, especially in rural areas, and that much of Western research studies are unsuitable for treating allergies in these countries. This concise book, in large part, is an attempt to provide the missing knowledge and information that might bring relief to just these under-served parts of the world.

The book's eight chapters cover a wide panorama of useful tips: what food allergies are, and why they occur, reaction management and medication, food safety, diet and nutrition. They also cover many practical issues – home life, employment, education and travel, and strategies on coping emotionally and psychologically. There is sound advice on allergy prevention and long-term health, a special section on food allergies in infants and children, prescribed tests, diagnoses and treatments and insights into non-allergic food intolerances and coeliac disease.

In short, this is a compact handbook of allergy management – particularly useful to those who have chronic or even periodic allergy reactions, or parents or caretakers who may have children with sensitivity issues related to food.