Book Reviews - A labour of love
by Mukta Hegde
Sukham Ayu Cooking at home with Ayurvedic insights Researched at KARE, Auther: Jigyasa Giri & Pratibha Jain, Published By: PRITYA, Pages: 114, Rs. 495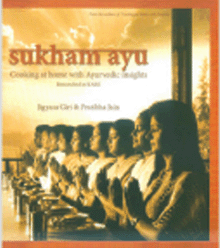 Jigyasa Giri is a kathak dancer, teacher and choreographer. Pratibha Jain is a PhD in language. The two are a perfect foil to each other and bring their individual special talents to their work in research, translation and dance. Their tryst with unearthing traditional wisdom began more than five years ago. What started as a xeroxed compilation of grandma's homely recipes metamorphosed into a first-class book titled Cooking at Home with Pedatha. The book won the Gourmand Award for the best vegetarian book in 2006.

The journey continues and Jigyasa and Pratibha present their second book, Sukham Ayu (happy longevity) that demystifies the tenets of ayurveda in a simple easy-to-follow manner. Particularly important is the detailed information on the three doshas along with the food guide at the end, which tells you your 'prakriti' (constitution). The guide tells you which foods suit you the most, and which the least. Sukham Ayu is a collection of satvic recipes developed in consultation with KARE (Kerala Ayurvedic Research and Rejuvenation Establishment) suitable for persons of all constitutions. What is delightful is that the recipes use easily available ingredients and everyday spices like mustard seeds, ginger, garlic, fenugreek, and turmeric to produce dishes high on taste without sacrificing nutrition.

The book is full of nuggets of ayurvedic wisdom, such as eating a sweet dish at the beginning of lunch, because digestive fires are at their strongest then. It also emphasises use of rock sugar instead of refined sugar and use of rock salt instead of refined salt in line. For easy reference, the recipes are divided into sections such as sweets, soopas (as soups are called in ayurvedic terminology), vegetables, pulses, Indian breads, rice, snacks, chutneys and salads. The annotations with every recipe outlining its benefits are highly informative.

Sukham Ayu has heritage value, educating the younger generation about the concepts of healthy eating without sounding preachy. It makes for a great gift as well.