Book Reviews - A quantum God
God is Not Dead; Author: Amit Goswami; Published by: Jaico Publishing House; Pages: 310 pages; Rs. 295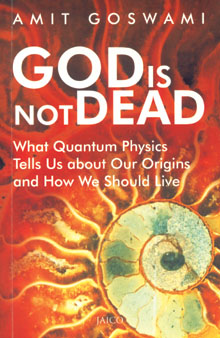 Over the centuries many have tried to play peacemaker between science and religion, albeit without much success. Until now, any peace would mean a compromise by either side. But thanks to quantum physics we can now prove that God exists and that He plays an important role in our lives. Amit Goswami, known to us from the movie, What The Bleep Do We Know!?, shares an incredible explanation about how quantum physics can explain the seemingly illogical aspects of religion that require blind faith. Quantum physics involves atomic and subatomic particles whose true nature we are only just beginning to uncover. Unlike traditional physics, it does not follow seemingly apparent laws and often displays surreal phenomena.

Perhaps, one of the most interesting phenomena is that elementary particles can exist as a wave (of possibility through ambiguity) or as a particle (certainty through observation). At creation there was no sentient observer and hence a wave of possibility was created which gave rise to another wave of possibility and a domino hierarchy of such waves. Somewhere down the line, when, in these possibilities, a sentient observer (consciousness) evolved, a point of certainty arose. This then triggered the dominos into a collapse of certainty. The sheer beauty of such a concept makes you wonder if this is art or science? Another phenomenon is non-local interactions. Two particles can mysteriously interact without any form of physical interaction. This irons out all the wrinkles put across by materialist scientists in the downward causation theory. Goswami also talks about artificial intelligence, energy bodies, evolution, soul, ESP and healing.

The book is for people who want a deep logical modern understanding of theology. It needs to be read and digested chapter by chapter. Only then can its beauty and simplicity touch you. The book appealed to my scientific background (physics being my favourite subject), and what I also like is the fact that it is doing the noble and Herculean task of bridging science and religion.