Book Reviews - A questioning attitude
by Neelam Mehta
What Does That Mean?, Author: Eldon Taylor, Published By: Hay House,Pages: 208 , Rs 299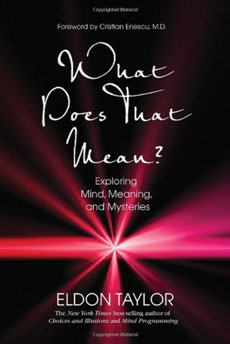 Have you ever noticed how questions exude a dynamic energy? Questions are dynamic, alive and full of creative potential. They are portals to discoveries and inventions, to growth and development. Every discovery and invention owes its origin to questioning – somebody somewhere questioned a given, and a new paradigm was born. What does That Mean? is a book about questioning – it is an exhortation to question our automatic beliefs and paradigms – whether inherited, culturally imbibed or garnered from personal experience. It provokes you, it takes you along, it opens up possibilities for out-of-the-box thinking, it fosters a relationship and it abides with you.

From a host of coincidences bordering on the paranormal to psychic feats bordering on the miraculous, Eldon Taylor shares from his own life and then urges the reader to mull on what it all means. Apart from personal experiences, the chapters touch upon issues ranging from violence to enlightenment and much else in between. He offers the not-so-obvious interpretations on sundry topics and then urges you to figure it out for yourself. For instance, he throws a series of very relevant questions on capital punishment at you, "What if you learnt that capital punishment didn't deter crime? What if you knew that it cost much more to execute criminals than to warehouse them in solitary confinement? What if you learnt that lifelong isolation was more of a deterrent than being put to death?"

Some of the personal experiences of psychic revelations in the form of warnings against impending danger or, a voice in the head that gives him exact instructions to help him find his lost lucky marble in childhood, lend themselves to scepticism; but what makes even these palatable to the hardest sceptic is that he himself questions the meaning of these and asks the reader to do the same.

What sets this book apart is the call to action – the action being to think for oneself – it's not a top-down, gyan-download – in a certain sense it is a workbook where the work is to turn a belief on its head and then look at it upside down. While several writers have tried to answer the quintessentia l question, "Who am I?" this one puts you to work to find out who indeed you are.