Book Reviews - A thrilling tale
License to Live, Author: Priya Kumar, Published By: Embassy Book Distributors,Pages: 222, Rs. 250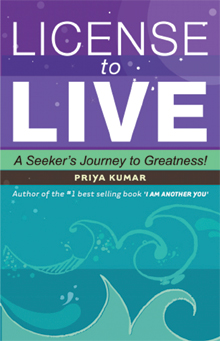 This is the season for inspirational fiction. After Robin Sharma showed the world the way it is done through his The Monk who Sold his Ferrari, the floodgates to inspirational fiction have opened. A case in point is corporate trainer and motivational speaker Priya Kumar's second book, Licence to live. Her first book, I am another you, was based on her real-life experiences at a shamanistic retreat that helped her go within and find what she was looking for. Fictional, unlike her first book, License to live is an adventure that Priya embarks on when she finds herself doing things mechanically and moving aimlessly.

How many of us have the incessant need to be in control? Knowing where we're going and what we're doing beforehand gives us a sense of security. Priya felt the same when she signed up for a self-development seminar and was ordered to obey and not ask questions. Unlike the usual classroom analysis and discussion, this programme put its participants' lives in grave danger. Swimming in the ocean, jumping out of airplanes and being stranded in unknown places without money were just some of the scenarios that brought out Priya's hidden virtues. Eagles don't teach their young how to fly, they just push them off the cliff; flying comes naturally. Until we face a situation, we can only plan how to face it or crib about it, but only when we do face it and act, do we realise that we could always have done so.

Adding a mystical element into the story, she meets the keepers of the past, present and future. The past can either weigh us down or motivate us, depending on what memories we focus on. The future is any amount of possibilities that can happen provided we move on that path. But the present is our point of power. Here's where we are in charge and can change anything we want to, to shape the future.

An exciting and thrilling book, which definitely gets the message across, it shows you how to live. It made me evaluate if I'm living in regret and shame of my past or in fear of my future.It made me ask whether all my thoughts and actions were focussed in the present and if I am working towards a goal in the future.