Book Reviews - All about Consciousness
by T. A. Basubramanian
Dream of Consciousness - Contemplations on Advaita, Author: Chaitanya S. Balsekar, Published By: Yogi Impressions Books, Pages: 202, Rs 250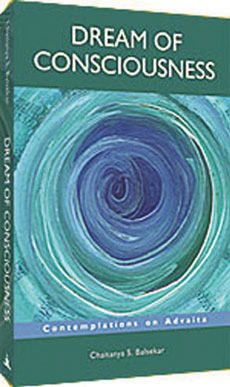 Chaitanya Balsekar, the author of the book under review, is the younger brother of the renowned Advaita exponent, Ramesh Balsekar, and he is also a disciple of the master of Advaita, Sri Nisargadatta Maharaj.

According to the senior Ramesh Balsekar, Consciousness (spelled with a capital 'C' to represent the transpersonal aspect as opposed to the lower case 'c' in 'consciousness' which represents our everyday ego consciousness) can be described in a four-level hierarchy. The starting point is Consciousness 'at rest', without any attributes or qualities – Nirguna Brahman or 'Impersonal Consciousness'. Then there is Consciousness 'in movement', functioning as the Witness or 'Conditioned Consciousness'. As soon as there is the thought 'I am', this becomes 'Embodied Consciousness.' Finally, in the ordinary state of our ego experience, this is conflated with the body-mind – called the 'Identified Consciousness' – or the jiva.

At this base level, what is experienced by most of humanity is what the book's title says – the 'dream of Consciousness.' The process of enlightenment is to transcend the ordinary 'Identified Consciousness' and the 'I am', then ascend to the Witness state, and ultimately reach the unattached 'I am' – or the sublime state of 'Impersonal Consciousness.'

In this collection of 51 short – but beautifully elucidated – meditative essays on Advaita, younger Balsekar unravels facets of the four layers that lead to the state of 'Impersonal Consciousness': there is nothing else in the universe, ultimately, which is the essence of non-duality, or 'Advaita'. Approaching it from a variety of perspectives he builds upon the insights of his guru, Sri Nisargadatta Maharaj, and his brother, but he presents new insights synthesised from both.

For those seekers of the Advaita goal ready to move on, these essays may well pop open the ultimate doorway to realisation.