Book Reviews - An Emotional Guide Book
by Shivi Verma
Reverse your thoughts, Reverse your diseases, Author: Anil Bhatnagar, Published By: Global Vision Press, Pages : 353, Paperback, Price : Rs. 245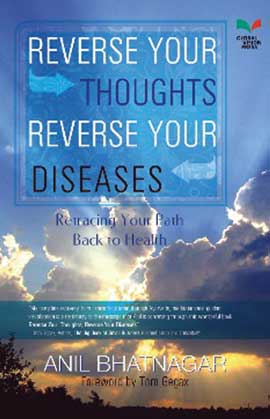 The biggest problem with our negative reactions is that they donít seem wrong while we are in the throes of it. It is only in the aftermath that we repent or regret them. But does that mean we are fated to deny them expression?

Anil Bhatnagar, the author of Reverse your thoughts, Reverse your diseases opines that negativity, whether repressed or expressed, is harmful for us as well as for our environment. So what does one do with it? In his book Anil goes deep into the mind, its evolution, lineage, and compulsions to understand the human condition. He arrives at the conclusion that physical dis-ease is more often than not created by improperly handled diseased thoughts. Anil says that if we train our negative thoughts to manifest the positive message they carry, then they can lead us to health and happiness.

He says that nature sends us wake-up signals through negative emotions. But when we give in to them or suppress them, we are not heeding them. Why not introspect on the learning they carry and work on ourselves accordingly, he asks. The book takes up almost every negative emotion that disfigures us in our own eyes and analyses them threadbare to clarify their purpose. For eg, the feeling of jealousy reveals to us the need to work on our self-esteem and to shift our focus from insecurity to faith, trust and gratitude.

He has created an acronym, TERPR, that we can apply each time we experience a negative feeling: T-identify the trigger, E-feel the emotion, R-Awareness of reaction, P- Identify the patterns, RĖRehearse your modified and improved reaction. This way, whenever a negative thought crosses our mind we know what to do with it. So when life gives us lemons...we make lemonade. Nowhere did I understand this proverb better than in the context of Anilís message through his stirring book. The ninth chapter focuses on the emotional root of the diseases and their wholistic cures. So the next time you slip on a banana skin ...check if you have been carrying a resentment against authority, instead of cursing the civic sense of people.