Book Reviews - An unusual quest
by Luis S. R. Vas
NIVEDAN: The Autobiography of Dharmanand Kosambi, Author: Meera Kosambi (ed.), Published By: Permanent Black, Pages : 204, Paperback, Price : Rs. 295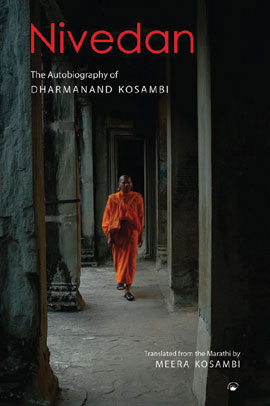 Dharmanand Kosambi (1876–1947), a pioneering scholar of Pali and Buddhist Studies, was either unable or unwilling to study beyond Std. V in Marathi as a child in rural Goa. But he came under the spell of the Buddha's teachings and before the age of 16 fled four times, unsuccessfully, from home to learn more about the Buddha. To instill a sense of responsibility in him his father put him in charge of his coconut plantation and got him married. But as soon as the father died, Dharma abandoned his wife and newly born daughter and set off on an incredible journey of austere self-training across the length and breadth of India, halting to educate himself at places connected with Buddhism. His sojourns included living in Sri Lanka to master Pali, in a Burmese cave as a bhikshu to study meditation prescribed in Buddhaghosa's Visuddhimagga, and in some viharas of North India –begging for monastic sustenance – as well as in Nepal and Sikkim which he reached after arduous, sometimes barefoot, treks.

Over these itinerant years Dharmanand acquired such mastery of the Buddhist canon that he was appointed to teach and research at Calcutta and later at Baroda where he was given a grant of Rs.50 per month by the Maharaja to write a book a year on Buddhism. He did this but in Marathi, which is why he is virtually unknown outside the Marathi reading public.

After seven years of spiritual wanderings, Kosambi returned to his family, settling for a while in Bombay. Here he was introduced to Prof. James Woods of Harvard who had come to India to learn Pali. He learnt it under Kosambi and when he returned to the US arranged for Kosambi to complete the translation and a commentary on Buddhaghosa's Visuddhimagga at Harvard which had been left incomplete with the death of the editor Prof. Charles Warren. Altogether Kosambi made four trips to Harvard to complete the assignment. Ironically, the man who had no formal education beyond Std. V in Marathi could now provide his son Damodar, a Harvard education from where he graduated Summa Cum Laude in mathematics and later became a noted historian.

Kosambi also taught at Leningrad and Moscow universities, learning Russian to do so.

As a thinker Kosambi blended Buddhist ethics, Mahatma Gandhi's philosophy of truth and non-violence, and the ideals of socialism. He exchanged letters with the Mahatma, worked for his causes, and died in the approved Buddhist/Jain manner by voluntary starvation at Sevagram ashram since he was in poor health and unable to contribute any more to society.

Nivedan, his engrossing partial autobiography till 1924, was serialized in the bilingual Marathi/Portuguese periodical, Bharat, in Goa. His granddaughter Meera Kosambi translated and edited it and provided an Introduction that contextualises the life, career, and achievement of one of India's greatest scholar-savants.