Book Reviews - Be happy !
by Nipun A Jacob
Don't' Forget Your Floaters - Essentials For Happiness, Author: K B Trehan, Published By: Pustak Mahal, Pages : 208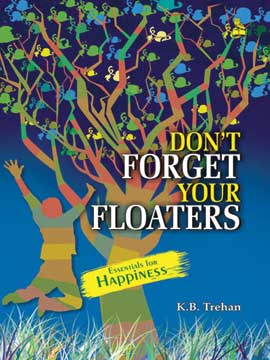 One of the key messages of this book is that the best place to find a helping hand is at the end of your own arm, as K B Trehan observes in the foreword of the book. The author, a mining engineer by profession, has 'mined' his own life and experiences to emerge with a quirky, original piece of writing through which he expresses his forthright views on life and living. Through small think pieces, the author holds a mirror to some of the observances and customs that are often thoughtlessly practiced. Why should women fast on Karva Chauth, he asks. Are the lives of their husbands really going to get extended if they stayed hungry for a day? He also questions the custom of throwing puja flowers into flowing water. "Is it because our gods would be displeased if we did not follow religious dictates?" he questions. "Without giving much thought, in the name of traditions, culture, religion and rituals we unnecessarily pollute our natural heritage by swinging flowers, idols, and other materials into rivers. It adds to water pollution if nothing else"

By shining light on our own thoughtless compliance, he leads us gradually to an inner exploration. He shares that we all have within us the power to change our present by exploring and focusing on our inner self. The author gives tips on tuning the mind through meditation, chanting, and having faith in God's providence. His association with the corporate world has given him a world of wisdom on coping with the various issues that may be thrown up at the workplace, such as dealing with ego and fear. The power of focus, the art of giving and how to be in the present moment mindfully are other aspects he dwells on.

This book is a small yet powerful attempt to bring about change in our attitude and behaviour and thereby seed the possibility of happiness within.