Book Reviews - Business with balance
by Luis S. R. Vas
Business Balance & Beyond, Author: Azim Jamal, Published By: Jaico Publishing House, Pages : 190, Paperback, Price : Rs. 275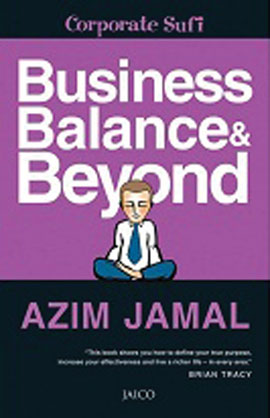 Tales of business greed leading to fatal consequences are too recent to need repetition. Lack of balance is the culprit, Azim Jamal would say.

Here Jamal, a highly sought-after motivational speaker, author and coach, combines a self-styled Sufi ethic with business goals to produce sustainable success for all. The book teaches us the equal and overlapping importance of what the author claims are three vital components of any business life cycle:

• Business: combining engagement, empowerment, efficiency, leadership and capacity building

• Balance: comprising internal and external richness, and Beyond Business: teaching the significance of success and happiness, for yourself and for others.

• Ingrained in the book is the concept of the Corporate Sufi, apparently a Jamal concept he has shared with millions around the world. Success is all about serving. The Sufis say that real faith lies not in holding beads but in serving humanity. Similarly, business is not about just profits—it is about service.

We need to take attentive instructions from Nature. The tree serves us by bearing fruit that can be picked and eaten, the clouds serve when they open up and provide rain which is essential for the survival of crops and wild vegetation. The flower gives of its fragrance to everyone who walks by. Service is inherent in nature. "At the beginning of your journey in business, the commercial aspects are paramount. As you graduate in business, you realise that without balance you cannot sustain your success. Then when you seem to have it all, you ask, is that all there is in life? This is where beyond business comes into play. Even when you are balanced and have tapped into the beyond, you cannot ignore the basics of business," Jamal claims.

The Corporate Sufi believes that everyone is blessed with power. Some use power wisely and some don't; many never use their power at all.

You might wonder why it is important to combine balance and business, material and spiritual wealth. There are several reasons, according to Jamal:

• Massive corporate success without true personal happiness is a failure

• Many of the most profound and lasting legacies in our history have been contributed by great leaders who valued life balance and journeyed beyond monetary goals

• It is not an either/or situation. You can have success, balance and happiness!

Applying the messages will mark the beginning of your powerful and transformative life journey! So, Jamal claims. He garnishes his book with numerous anecdotes, quotes, an audit form and a workbook. But have any studies been done on the subject? If so he doesn't mention them. But his numerous readers appear to believe him.