Book Reviews - C is for challenge
My Cancer Is Me: The Journey from Illness to Wholeness, Author: Vijay Bhat and Nilima Bhat, Published By: Hay House, Price : INR 395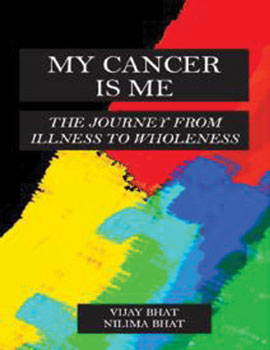 Cancer" is a word that all of us dread. When one hears a diagnosis of cancer, panic and fear overwhelms as one desperately pins hopes on doctors, on medical treatment and, of course, on a miracle. "Why me?", "What are my loved ones going to do now?" are usually the first questions that strike us. Some, like Vijay and Nilima Bhat, show us another way. They show us how we can become not just a cancer survivor but a thriver. If you have ever had cancer or watched someone close to you go through the cancer journey, you know that you need to have a plan. The book shows us how to deal with cancer, just like a 'fork in the road' and reclaim one's power. Since Vijay is himself a cancer thriver, having been diagnosed with and operated for colon cancer, their advice comes from a felt space. They share their experience completely, and in the process, inspire and motivate people to lead a complete life on 'their own terms.'

The authors believe that healing requires a person-centric approach, where the focus is the whole person and all the aspects of his inner and outer life, rather than an organ-centric one, where the focus is merely on the disease or affected organ. According to them, cancer is the result of your physical lifestyle along with your mental, emotional and spiritual processes and the stressors associated with these processes. For instance, negative thoughts and attitudes are mental stressors while negative emotions such as anger and guilt are emotional stressors. Healing these aspects is essential for complete healing, they say. While your doctors work towards healing your body, you must heal your inner self, urge the authors.

There are also many useful, practical tips on improving one's immunity, dietary guidelines and exercise plan. One can call this book psycho-spiritual and also a useful guide for people dealing with their cancer or those of their loved ones.

Well written and insightful, this is a book worth owning or gifting, whether or not one has cancer as it shows us how to deal with any life situation as a challenge.