Book Reviews - 7 steps to enlightenment
Chakra Meditation; Author: Swami Saradananda; Published by: Duncan Baird Publishers; Pages: 160; Rs. 725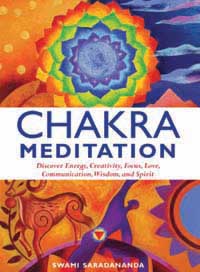 We all have some idea about the seven chakras and their significance, but few us know enough about these magical wheels. Hereís one book that dives into this area and leaves one quite satisfied with what it has to offer.

Starting from a very basic level, the book explains what chakras are, explores their physical counterparts in the body, physical, astral and causal bodies, and kundalini awakening.

Taking each chakra individually, the book describes its role, how to understand and deal with what the chakra is associated with, a meditation and yantra to tune into each chakra, the element associated with it, affirmations and mudras, the emotion that needs to be released, visualisations and breathing techniques to activate the chakra, oils, essences, crystals, incense, foods and yoga asanas for particular chakras. The authorís practical bent of mind has produced a book that focuses on practise rather than just theoretical knowledge.

A good example of the fresh information this book contains, is the awakening of the plantar chakras on the soles of the feet. This chakra enables one to be grounded and balanced. Being clumsy, accident-prone, and emotionally numb are indications that these chakras arenít functioning fully.

Reflexology, walking barefoot on grass or on a beach or doing the walking meditation is good for opening these chakras. Meditations with each of the elements the chakras represent is very promising. For the manipura or solar plexus chakra, the meditation involves writing unpleasant past and present situations and burning them on a candle, releasing them and allowing life to pour in.

Beautifully designed and printed, this book has a rich and lustrous appeal to the visual senses, bringing to life each chakra as one flips through it. I appreciate the practical approach the author has taken so as to make it interesting, and at the same time, directly applicable to oneís life. Hope you enjoy it and use it to live life more vibrantly.