Book Reviews - Changing Lives One School At A Time
by Uma Garimella
Three Cups of Tea, Greg Mortenson and David Oliver Relin, Penguin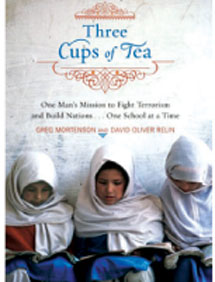 Changing lives, one school at a time This book is a New York Times bestseller first published in 2006. The book's title comes from a Balti proverb: "The first time you share tea with a Balti, you are a stranger. The second time you take tea, you are an honoured guest. The third time you share a cup of tea, you become family." Baltis are Muslims of Ladakhi/Tibetan origin from Baltistan, Pakistan. The book describes Mortenson's transition from a mountain-climber to a humanitarian committed to reducing poverty and educating girls in Pakistan and Afghanistan. In 1993, after more than 70 days on the mountain, on one of his expeditions to scale K2, their ascent is interrupted by the rescue mission of a fellow climber. He gets lost on the way down, and convalesces in Korphe, a small and unremarkable village, and is cared for by the chief of Korphe, Haji Ali. Here, he discovers that the village had no school and children were learning in open air – exposed to the cruel weather. As a gesture of compassion and gratitude, he promises to build a school for them.

After a frustrating time (sleeping in his car and living out of a storage locker while working as a nurse in America) trying to raise money, Mortenson was introduced by chance to Jean Hoerni, a Silicon Valley pioneer who donated the money Greg needed for his school, insisting that he show him the picture after completing the project. Almost half the book is devoted to the Herculean task of building the first school and showing its picture to Jean, now terminally ill with cancer.

Greg, by now well and truly bitten, went on to co-found the Central Asia Institute with Jean, who endowed the CAI to build schools in rural Pakistan and Afghanistan. CAI has built over 78 schools in the most remote areas of the countries. The first fifty pages were difficult to read – the language and territory where it is set were so difficult to understand – I almost gave up. But when I crossed this hurdle, I fell in love with the book and the characters. Credit goes to co-author and award winning journalist Relin who recounts Mortenson's efforts in fascinating detail, presenting gripping portraits of the village elders, con men, philanthropists, mujahideen, Taliban officials, ambitious schoolgirls and upright Muslims.Reading the book, one feels, if one man can do so much what am I doing to make a difference? A must-read for anyone who is interested in social change and responsibility.