Book Reviews - Civilising the west
by Satish Purohit
Pilgrim of the SKY; Author: Raj Supe; Published by: Leadstart publishing; Pages: 328; Rs. 350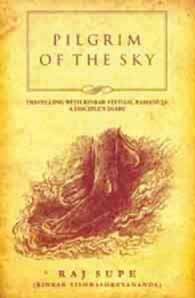 Raj Supe or Kinkar Vishwashreyananda visited the United Kingdom in 2006 with his guru Kinkar Vitthal Ramanuja to spread the message of Sage Naam Avatara Sitaramdas Omkarnath and his Siddha Kriya Yoga (SKY) technique. This book is an account of that journey. The book is special because it records for posterity a recent east-to-west journey of an Indian saint, mirroring, Supe says, similar forays by spiritual greats like Swami Vivekananda and Paramhamsa Yogananda. Supe and his guru love English literature and Indian classical music and the communication between teacher and taught is peppered with lines from Shakespeare. Both are prone to breaking into song and live the Sanskrit phrase sangeetam partaram nasti (There is nothing higher than music). Supe records all that he sees faithfully and in a matter-of-fact voice. He does not allow the tone to lapse into sentimentalism or go preachy on the reader.

Guru and disciple suffer the predictable culture shock when they see young couples making out on the London Tube and in the public parks. However, it is the guru who reminds young Supe that one should not fall for the 'unholy west' stereotype. "I am not going to the west to see the bad things. There is purity everywhere. There is purity in the west as well. And that is what I am concerned about. Why should I be bothered about anything else?"
The relationship between guru and disciple is not always smooth. Supe records occasions when he became extremely upset with the guru for ticking him off in public. Such occasions, however, only serve to cement the bond between the two.

If you enjoyed reading the Gospel of Sri Ramakrishna, Swami Rama's books and Paramahamsa Yogananda's autobiography, you are likely to love this one.