Book Reviews - Death be not proud
by Satish Kumar
Immortal last words, Author: Terry Breverton, Published By: Quercus,Pages: 384, Rs 399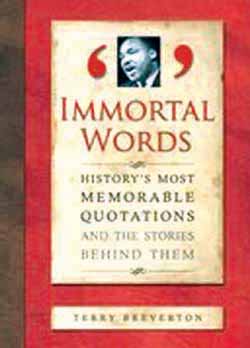 I have often racked my brain hard for the last line I would like to utter before I slip into the great darkness. I have to prepare because it is likely that the gods of repartee will fail me as they have always done.

Wit, when it will dawn, will probably come too late. So, I have decided that my epitaph, if there is one, would read: "Here lay the ashes of a Pagan polytheist who believed in the brotherhood of man and motherhood of God. About everything else, he was utterly clueless till the very end." Of the 370 entries in the book capturing famous last lines as well as words spoken about the departed, Pancho Villa is my man. His final words: "Don't let it end like this. Tell them I said something."'There is also economist John Maynard Keynes, who you have to love for saying "I should have drunk more champagne." Man after my heart.


 
 
On this bank, there is wine, and you my love Who knows what awaits me on the other bank
– Harivansh Rai Bachchan
 
 
The men and women Breverton has chosen for his collection of 'History's most memorable dying remarks, deathbed declarations and final farewells' include those who went aarghhhhhhhh (almost) and many who fared much better. The 370 entries in the book include the Buddha (563 BCE- 483BCE) "All composite things pass away. Strive for your own liberation with diligence", Mahatma Gandhi (2 October 1889- January 1948) "The light has gone out of our lives" (said by Jawaharlal Nehru), and Meher Baba (25 February 1894- January 1969) "Do not forget that I am God".
While I would have enjoyed the book even more if there had been more Indians in it, I would buy it anyway for the variety of voices it presents, and the irreverent humour that spills from its pages. While questions on the nature of the great unknown will remain, it is wonderful that mortals, commonplace and exalted, should look at the bottomless abyss and laugh. This is one for keeps.
Satish Purohit
See more articles on Book Reviews at:
http://www.lifepositive.com/mind/book_reviews/Book_reviews.asp