Book Reviews - Discover your genius
by Shivi Verma
Seed of Genius, Author: Ankur Gupta, Published By: Westland Publications, Pages : 208 Pages, Paperback, Price : INR 295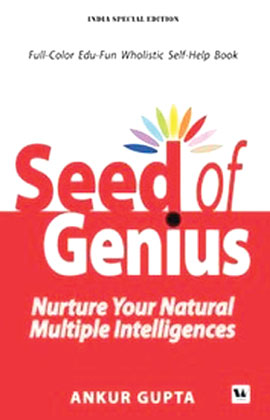 Author Ankur Gupta through his path-breaking book, Seed of Genius, fittingly dispels the notion that only few qualify to be called a genius. All of us are geniuses. But this seed requires proper identification, attention and nurturing to grow to its full maturity.

And geniuses can be diverse. One can be a trekker, a bird watcher, an ace photographer, a musician, a dancer, a writer, a social worker, an actor, a painter, a stand-up comedian, a homemaker or even.. ahem... a politician. But Ankur does not stop at that. Not only does he assuage the wounded self-esteem of millions of differently-abled people, he goes a step further. He gives you a method by which to quantify and arrive at your typical inherent genius. So if you are studying for a CAT entrance exam only because the geniuses of your time are identified by their IIM badges, you may be doing a disservice to your own latent seed of genius. Going through this book will help you classify under which category your inner seed falls thereby facilitating the path to discovering your unique career path. Taking a cue from the Howard Gardener theory of multiple intelligences, Ankur offers an exhaustive and intensive worksheet of questionnaires. To keep you entertained in this journey, the book is sufficiently interspersed with sketches, cartoons, wisecracks and distinct colour codes.

Yet it is no easy read. The graphs, bars and other tools can intimidate the reader. However, if you persist, and fill in the blanks, your own perspective about yourself may undergo a dramatic shift. As for me I discovered that I was a genius with linguistic, intrapersonal and existential intelligences to my credit. Which explains why I am a writer for Life Positive. I've found my calling, readers. If you want to find yours, you know what to do.