Book Reviews - Discovering oneself
by T. A. Basubramanian
Inner Pilgrimage: Ten Days to a Mindful Me, Author: Raji Lukkoor, Published By: Third Eye, Paperback, Pages:176, Rs. 195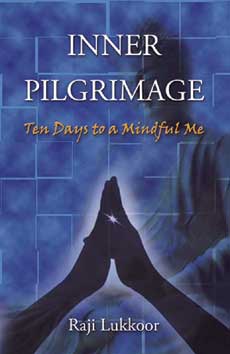 Vipassana means 'insight' in the ancient Pali language.

Somewhere on day five, half-way through the ten-day meditation retreat that Raji Lukkoor attends and records engagingly in the course of this book, she quotes William Hart (from 'The Art of Living' – a book on vipassana): "All our lives … we have rarely tried to examine ourselves, our own mental and physical structure, our own actions, our own reality. Therefore, we remain unknown to ourselves. We do not realise how harmful this ignorance is, how much we remain the slaves of forces within ourselves – of which we are unaware."

That insight unfolds for Raji in so dramatic a way that she immediately feels impelled to put down her experiences – documenting every single one of the ten days – in her own stream-of-awareness style.

So what we have is a gripping – often humorous – and very personal account of how she learns to examine her 'own reality' – guided by the voice of S N Goenka (the founder of the ten-day programme), the instructors, and the processes of vipassana meditation.

What begins with a simple series of grievances ("Oh no, the AC will dry out my nasal passages") and the typical mental niggles of an urban housewife adjusting to new physical surroundings and changing habits in the middle of a group of meditating strangers gradually gives way to deeper levels of discomfort – emotional and physical disturbances – that she wrestles with, overcomes bravely, and honestly shares.

Raji writes about her experiences with a keen sense of observation that is both amusing and instructive. To anyone reading her story, it is like a taking a co-journey into what happens during the vipassana meditation retreat.

Reader's Comments
Subject:
Inner Pilgrimage - Ten Days to a Mindful Me Raji Lukkoor Book Review
- 20 November 2011
http://www.beckvalleybooks.blogspot.com I have often watched documentaries on retreats with the secret yearning of wanting to attend one of these myself one day. They show you the difficulties people have to overcome and the unbelievable transformations of peoples lives that can take place, it i
More...
by:
Sharon Martin