Book Reviews - Elevate Your Thoughts
by Purnima Coontoor
Book of meditations for everyday in the year,Author: James Allen, Published By: Sterling Publications Pvt Ltd, Pages: 366, Rs 200

James Allen was a philosophical writer known for his inspirational books and poetry. Born in Leicester, England, in 1864, Allen pursued a simple life of contemplation, influenced as he was by Leo Tolstoy. His most famous book, As a Man Thinketh, published in 1902, is now considered a classic.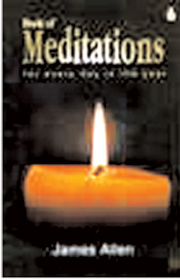 As in all his other works, Book of Meditations illustrates the use of the power of thoughts to increase personal capabilities. It has 365 passages for every day of the year that encapsulate the teachings of all the scriptures of the world. It touches upon all aspects of man and life, and gives apt suggestions to overcome vices, develop healthy habits, practice simple living and high thinking and nourish the soul. It talks of the exalted virtues of love, compassion, contentment, restraint, sacrifice, et al, in a language regal and quaint, rarely read in contemporary times. The passages in the book almost read like the Bible, being liberally peppered with whosoevers and shalls and eternal life. But each passage is guaranteed to set one thinking on the lines intended by the author, which is to lead a just, simple and happy life. Book of Meditations is indeed a handy book to have by the bedside, to be read at the rate of one per day both while retiring for the night and starting a fresh day, so that the readers' thoughts and actions are influenced by the notes and stay elevated for the length of the day.

The quotes at the beginning and ending of each passage are a rich source of 730 thought-provoking one-liners, a handy tool for motivational speakers and writers alike.