Book Reviews - Famous Last Words
by Anita Anand
The Last Lecture, Author: Randy Pausch with Jeffrey Zaslow, Published By: Hodder & Stoughton 2008, Pages: 206 pages, Rs 295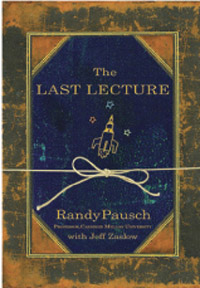 Famous-last-words Engineering isn't about perfect solutions: it's about doing the best you can with limited resources."

Since the book was released in April 2008, I looked at it several times in the bookshops. The jacket said 'No. 1 Bestseller'. I am wary of bestsellers. Finally, I bought it, as the title and synopsis on the back cover appealed to me: what wisdom would we impart to the world if we knew it was our last chance? If we were to vanish tomorrow, what would be our legacy?

The author, Randy Pausch, a computer science professor at Carnegie Mellon University in the US, was invited to give The Last Lecture, a lecture in which professors consider their deaths and speak about what matters most to them. But Pausch didn't have to consider. He was detected with pancreatic cancer in mid-2006 and underwent surgery. A year later he was told he had three to six months to live. He was 47 years old, married with three children under five. Rather than be defeated by this news, Pausch set out to live fully and leave a legacy for his children. He collected photos of his youth and family and wrote stories about them. He spent quality time with his wife and children doing things that were precious to them and recorded it.

At The Last Lecture, Pausch blew up the CT scans of his cancer on giant screens, did sit-ups, told jokes, shared his list of dreams and brought on stage his favourite stuffed toy. His topic, Really Achieving Your Childhood Dreams, was about overcoming obstacles and helping others achieve their dreams. He had a birthday cake wheeled in for his wife and called her up on stage next to him. The lecture was a huge success, taped and broadcast on U Tube and translated into many languages.

The book is a compilation of stories based on the lecture and anecdotes Pausch dictates to Wall Street journalist, Jeffery Zaslow, on a cellphone while biking, not wanting to take time away from his family. Going through the book I would ask myself, why is Pausch including this anecdote in the book? They are rather ordinary incidents, so what is the big deal?

The big deal is Pausch and his approach to the cancer – open – with a fiery spirit to fight it. Many people (including my father) when told they have cancer – tend to keep it quiet and hide it from others – and despair. Sharing the news frees those who have the cancer and others around them. Pausch spoke openly about his cancer (except to the children), created a website and maintained a health journal which people began to access.

My favourite anecdote in the book is when Pausch is stopped by a traffic police officer for speeding. When asked what his hurry is, Pausch tells the officer that he has been detected with cancer and pulls up his shirt to reveal the holes drilled for the surgery. The policeman waves him on, telling him to slow down. Lesson: the truth will set you free. I was in the middle of reading the book and discussing it over dinner while Pausch died, on July 25, 2008, thousands of miles away.

Pausch's message is not about fulfilling your dreams, but living life in the right way and letting the karma take care of itself. The question he raises: what is our legacy to the world and how would we like to be remembered is something I started to work on sometime ago. I don't want to wait till I am told I may be dying. I am ready.