Book Reviews - From reel to real
by T. A. Basubramanian
The best thing about you is YOU!, Author: Anupam Kher, Published By: Thomson Press India, Pages : 228, Hardcover, Rs. 399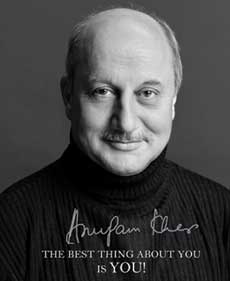 When things went wrong for me some years ago, I decided to write a play looking at all my setbacks in a very comic perspective. That one-man, two-hour-long play, Kuchh Bhi Ho Sakta Hai has been a hit in all the countries it has been staged in …"

Anupam Kher is recognised and respected as a veteran film and theatre actor who has played an immense variety of characters across more than 450 movies for over 25 years. Less well known is the fact that he has also earned a reputation as a highly effective motivational coach. What has shaped his career is his spirited philosophy of dealing soberly with success and failure – without losing his sense of balance.

"For a boy who had grown up in the family of a lower division clerk in Shimla with dreams for company, I had achieved fame and fortune beyond my wildest imagination. And then … the dreams got the better of me … I set up a huge production house … I went into event management. The cookie crumbled, as it had to. The cash flow went kaput. And I was fighting a flurry of court cases. That was when I discovered myself, and began to do some self-therapy. In the process, I discovered many truths. And I formulated these into exercises in my acting school called "Actor Prepares". It teaches people to discover themselves."

That gritty ability – to look failure in the face and bounce back – is Anupam's core message in this book. In these, his compactly narrated, life-affirmative stories, he talks about his life experiences frankly and inspiringly – touching upon ways to disarm and get past energy-draining feelings like unhappiness, discontentment, anger, detachment and fear, wise handling of sticky situations involving relationships, change, control, failure, power, coping with pain, loss and death, and aspects of wisdom, self-discovery, friendship and happiness.

Each section is brief and focused, like a short 'take' in a documentary. His tone is plain, direct and unflinchingly honest – like the man himself. It is a compilation of quick, uplifting and easy to read motivational thoughts that would help anyone caught in a messy life situation – and needing to know that they are not the only ones who have been entangled there.