Book Reviews - Futuristic fable
by Luis S. R. Vas
Rabbit Rap: A Fable for the 21st Century , Author: Musharraf Ali Farooqi and Michelle Farooqi, Published By: Viking, Pages : 304, Paperback, Price : Rs. 499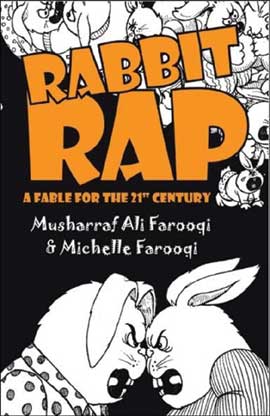 These days what were known as comics in our younger days have been repackaged as graphic novels. Rabbit Rap is not in the classic comic format of balloons emanating from the speakers' mouths but is an illustrated book, the text interspersed with endearing cartoons.

In this tale of graphic fiction, rabbits live in happy freedom from their natural predators and are busy violently taming Nature. Some of them seek to do away with warren dwelling and liberate themselves from the old ways. They find a true believer in Rabbit Hab, an enterprising head rabbit. As the ambitious Hab presses forward with his futuristic vision, he must contend with opposition, sabotage, and dirty double-dealing from some unlikely quarters.

The delightful fantasy straddles the young adult and general readership. It is lavishly illustrated, and will appeal to a wide range of readers. Its unusually packaged but strong message on environmental change, green politics, and organic farming in a non-threatening but convincing format will be, hopefully, more effective than the traditional didactic do-or-die approach.

Musharraf Ali Farooqi is the author of Between Clay and Dust (2012), and The Story of a Widow (2009) which was shortlisted for the DSC Prize for South Asian Literature. His children's works include The Cobbler's Holiday or Why Ants Don't Wear Shoes (2008), and The Amazing Moustaches of Moochhander the Iron Man and Other Stories (2011) shortlisted for the ComicCon India Award in the Best Publication for Children category. His wife Michelle is an illustrator and visual artist, currently working on paintings and drawings for her first portrait exhibition, to be held later this year. She earlier collaborated with Musharraf Ali Farooqi on The Amazing Moustaches of Moochhander the Iron Man and Other Stories (2011).