Book Reviews - Ground beneath our feet
by Satish Purohit
Celebrating The Earth - Stories about Prithvi, Author: Sangeeta Venkatesh, Published By: Self-published, Pages: 52, Rs 150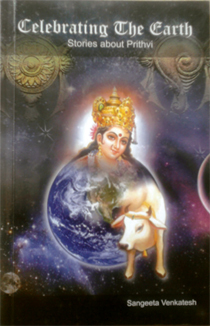 Scientist, environmentalist and futurologist James Lovelock's much-attacked Gaia hypothesis views the Earth as a self-regulating entity with the capacity to maintain its health by controlling the chemical and physical environment. Sangeeta, a biotechnologist, environmentalist and sanitation and waste management consultant, recounts stories of the Earth Goddess or Gaia in the Indian traditions, where she is called Bhoodevi.

In the introduction to the book, Sangeeta highlights how food production has increased two-and-a-half times and wood harvests for paper production have tripled in the last 40 years. Surely, there is a price to pay for this.

Through stories from the Srimad Bhagvatham and the Varahapurana, Sangeeta highlights what happens when men and women abandon dharmic living and take to a life of lying, plunder and deceit.

An angry King Prithu pursues Bhoodevi, the Goddess Earth, who flees from his terrifying arrows by assuming the form of a cow. Prithu is upset because Bhoodevi refuses to release her bounty to his subjects. "When the Paramatma or Supreme Being created me... I was instructed to share it (my bounty) with everyone on the planet but only if they took care of me with honesty and put in hard work. As instructed, Lord Brahma created roots, seeds, plants and grains which were to be used with the knowledge imparted by the great sages. But when hard work is replaced with corruption, resources are used indiscriminately and when seeds and herbs that I provide are used by men with no spiritual understanding, I have every right to hide my resources from them," says Bhoodevi.

Prithu promises to make amends and assumes the form of a calf. Mother Earth regards the calf with maternal love and offers her rich bounty as milk. Beings, divine as well as asuric, approach Mother Earth in the form of calves and she gives freely what they desire. The lesson, I think, is firstly to acknowledge and honour the motherhood of Earth. Lesson two is that Gaia has always been the good mother, it is time we prove ourselves her worthy sons and daughters.