Book Reviews - Happiness is an inside job
by Vijaylakshmi Nadar
The Irish Get Up and Go Diary, Author: Glenda Devlin, Published By: Get Up and Go Publications Ltd, Pages: 140, 10 £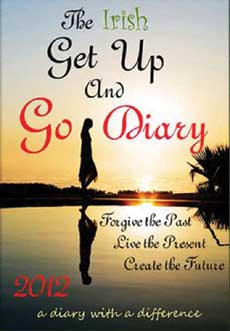 May your blessings outnumber the shamrocks that grow and may trouble avoid you wherever you go.

An Irish blessing.

'Happiness is an inside job' is the motto of the folks behind the The Irish Get up and Go 2012 Diary', Glenda Devlin, Eileen Forrestal and Brendan Mcgarvey. A South African by birth, married to an Irish man, Tom Devlin, Glenda was faced with survival issues, when her husband was diagnosed with cancer, ultimately losing the battle in 1991. The period of trauma during and after the episode, left her poring over inspirational books/quotes to keep her going. Finally, she had so many of them that she decided to put it all in a diary format which would help others overcome their traumas too.

The bright and colourful diary is full of messages of goodwill, wisdom, humour, optimism, thoughts of gratitude and appreciation, inspiration and motivation. In between all this positivity there is also some space (albeit too little considering it is a diary) to pen your dreams and goals.

The spunky diary was so well-received that it went into eight reprints, since it was first published in 2003.

The idea began as the Irish Survivors Diary by Glenda. When Eileen and Brendan joined the team they re-christened it to its present title. It is now a movement by itself committed to empowering readers to be at the source of the results they want in their lives by the words they use on a daily basis.

The Get Up and Go guiding philosophy is that sitting down and waiting for things to happen is not an option if you want to live a great life. Living every day means getting up every day and going for what you want: success in your career, happiness in your life and home, harmony in your relationships, fulfilment in your career, and well-being for your body, mind and spirit. There is a reminder right at the beginning of the diary to remember the best moments of the year gone by and work towards more of these in the new.

The team has plans to bring out this diary in India too, so you can soon lay your hands on your own daily morale-booster.