Book Reviews - Heart-friendly recipes
by Shivi Verma
The Heart of the Matter, Author: Gitanjali Gurbaxani, Published By: Times Group Book, Pages : 104, Paperback, Rs. 299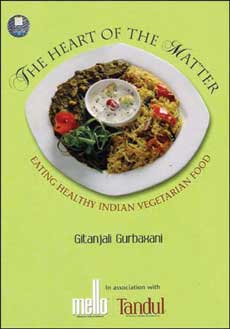 The Heart of the Matter, written by Gitanjali Gurbaxani, is essentially a celebration of Indian domestic cuisine. Happily, it not only tantalises our taste buds, but is heart-friendly too. She Indianises foreign foods like soups by giving local twists to their flavours, while at the same time making the cooking process healthier and easier.

Gitanjali's recipes inspire the common housewife to think out of the box and boldly whip up delicacies without worrying about the cholesterol or the blood pressure of her family members.

'Rasgulle ke kofte' 'kele ka sheera', 'cauliflower raita', 'carrot roti' etc are completely desi in nature but innovative in concoction and cooking style. All that is needed is a creative approach and swift manoeuvres to accomplish culinary delights within the limited resources of your home kitchen.

Gitanjali also advocates vegetarianism for maintaining a healthy lifestyle. For those with a genetic history of heart ailments this cook book offers valuable guidance. The recipes are accompanied by attractive pictures and essential information about the nutritive value of each recipe.