Book Reviews - History of the personal God
by T. A. Basubramanian
The Hidden Glory of India, Author: Steven J. Rosen, Published By: Jaico Books, Paperback, Pages : 192, Rs. 395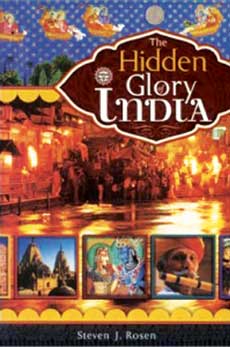 In this lavishly presented – yet compactly designed – collection of 80 lucidly written essays based on 30 years of research, Steven J. Rosen (known as Satyaraja Dasa) brings to light the fundamental guiding principles of Gaudiya Vaishnavism, or bhakti yoga. Primarily addressing the Western reader unfamiliar with India's religions, he covers a wide landscape of subjects, ranging from the basics of the spiritual path to advanced techniques for chanting the Hare Krishna maha-mantra.

The essays are packed into themed sections on subjects such as The Sacred Texts, Vaishnava Roots, The Godhead, The Demigods, Time and Space, The Hidden Incarnations, Sacred Places and Practices and Teachings. What we are offered is a quick and richly diversified tour of the philosophy and wisdom that underlies the bhakti yoga branch of Hinduism – the 'hidden' glory of India.

Part of the reason for Vaishnavism (which is the faith of over 70 per cent of the 800 million Hindus) being obscure to the West, according to Steven, is that in Swami Vivekananda's address to the World Parliament of Religions Conference in Chicago in 1895, it was Hinduism's plethora of gods and Advaita Vedanta – an impersonalist view of reality – that took the centerstage.

"While Vaishnavism – which is not only monotheistic, but highly personalistic in its view of God – may not be the most well-known form of Hinduism," Steven writes, "it is India's richest and most significant tradition."

While at one level Steven offers an illustrated full-colour overview of the Krishna consciousness movement, he also reveals – at another level – a richly crafted and scholarly depth of insight here on each topic, elucidated in easy-to-understand language.

For anyone interested in understanding Vaishnavism this is an outstanding work.