Book Reviews - Immortal insights to live by
by T. A. Basubramanian
Thirty Minor Upanishads, Translated by: K Narayanasvami Aiyar, Published By: Tantra Foundation, Pages : 286, Hardback, Rs. 950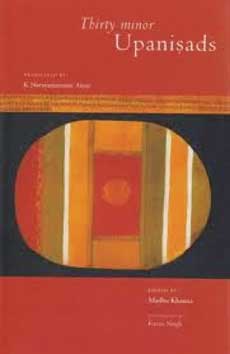 In a short, but enlightening Foreword to Thirty Minor Upanishads, Dr. Karan Singh, the Rajya Sabha MP, quotes Arthur Schopenhauer, the German philosopher and writer, who had remarked about the Upanishads:

"From every sentence, deep, original and sublime thoughts arise, and the whole is pervaded by a high and holy and earnest spirit. They have been the solace of my life – they will be the solace of my death. In the whole world, there is no study so beneficial and so elevating as that of the Upanishads. They are destined sooner or later to become the faith of the people."

This is a revised edition of Narayanasvami Aiyar's English translations of the Thirty 'Minor' Upanishads (of later origin than the traditional 108 Upanishads) – originally published in 1914 by the Adayar Library in Madras. The meticulous editing by Madhu Khanna (including a 13-page glossary of the difficult Sanskrit words and phrases used in the text) makes it a pleasure to read.

Classified for convenient reading under five sections – Vedanta, Physiology, Mantra, Sannyasa and Yoga – the translations include many of the popular Upanishads like the Muktika, Maitreya, Tejobindu, Yogatattva, Dhyanabindu and Yoga Kundali Upanishads.

The text is well laid out, crisply edited and in readable form – a tribute to the quality of printing and attention to detail. The Sanskrit words are clearly and consistently spelled out – including the difficult-to-pronounce syllables – that are explained in plain English. The passages and verses from the Upanishads are valuable in probing into the deeper aspects of life – a 'gateway to a different reality, illuminated by spiritual truths,' as Dr. Singh puts it. For troubled minds, these timeless insights from the sages provide the stabilising 'solace' that Schopenhauer found so enchanting.