Book Reviews - In quest of the Self
by K Gitanjali
Apprenticed to A Himalayan Master, Author: Sri M, Published By: Magenta Press, Pages : 329, Price : Rs. 500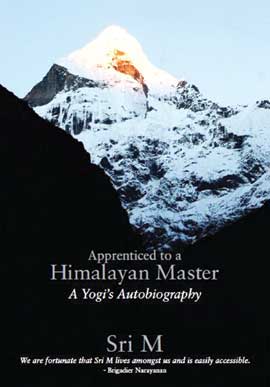 Sri M's autobiography takes off where Yogananda Paramahansa's Autobiography of a Yogi, left off.

One is taken on a fantastic journey as one follows a South Indian from Tiruvananthapuram as he scales not only the Himalayas, but also the heights of his consciousness.

The profound is not far from the profane and there is a thin line between madmen and Mahatmas. The need for discernment is stressed not only in identifying mahatmas but also in seeing through false gurus who throng the world. The journey in understanding holy madness continues as one is introduced to Mai Ma, a simple homeless lady as "naked as a babe" unwashed and sunburnt and surrounded by stray dogs, hiding behind boulders near the lofty temple of Kanyakumari Devi. If the stories of Kalladi Mastan and a "weird man" with matted hair and flowing beard, who kicks the writer on his right cheek resulting in a healing, leaves the reader wide-eyed, he is brought back to terra firma by tales of masters like Sree Narayana guru whose lives were ordinary and whose consciousness flowered outward in reforming society!

The journey even ventures into past life, as we are taken back to Vyasa's guha where it all began. That was where the young yogi Madhu committed a grave error against a Muslim fakir and had to give up his life and be reborn as Mumtaz Ali in a Malayali Muslim family in Tiruvanathapuram.

Vyasa Guha is an apt setting for the disciple to be reunited with his teacher, Maheswarnath Babaji. How Mumtaz Ali becomes Madhu again not only makes for compelling reading but also shows the illusory nature of religious divides. The story, however, doesn't end there for Madhu's destiny now takes him in search of his great guru whom Yogananda introduced as Mahavatar Babaji and who is referred to here as Sri Guru Babaji. Whether he fulfils his destiny or not is what the rest of the book is about. This autobiography written by a Master whose greatness is concealed under the guise of his humility, and sense of humour is a must add to one's treasury of spiritual literature.