Book Reviews - In the light of the ancients
by Satish Purohit
A Treasury Of Indian Wisdom, Author: Karan Singh, Published By: Penguin Ananda,Pages: 210, Rs 450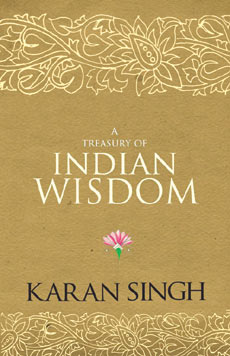 Do readers really need yet another treasury/anthology of 'Indian Wisdom'? I read this one and decided that they definitely do. This book reminds me how taking a few steps backwards is a good way to replenish one's energies for struggles of the future. Karan Singh, the anthologist of this treasury, with his background as a spiritualist and scholar, has ensured that texts from all major voices in the Indian dharmic traditions like Jainism, Buddhism, Saivism and Sikhism are represented here, as are perspectives from the great Semitic streams of Islam and Christianity. The book closes with selections from recent voices like Jawaharlal Nehru, Osho and J Krishnamurti and poets like Mirza Ghalib, Muhammad Iqbal and Kalidasa.

The first section entitled Vedanta has a beautiful Hymn to the Earth from the Vedas that could well serve as an anthem for a deep ecologist. "O purifier, may we not injure thy vitals or/ thy heart."

The second part of the book called The Great Revolts offer some priceless gems from Jaina and Buddhist thought. Here are lines from the Jain sub-section on living a moral life.

"Only those rich men are truly wealthy

Who relieve the need of their neighbours" The Buddhist section has an edict that was etched on rock on orders of Emperor Ashoka. It declares, "Contact (between religions) is good. One should listen to and respect doctrine professed by others." The book turns after this with excerpts from the Bhagavad Gita, and selections from the Vaishnava and Shaiva acharyas who worshipped God as a personality with name and form. The section entitled To The Formless One reels out works of Sufi thinkers like Shaikh Nizamuddin Aulia and Dara Shikoh. Some 20 pages are dedicated to the works of the Sikh Gurus. Here are lines from Guru Gobind Singh's prayer taken from the Candi Caritr.

"Let me never shun a righteous task,

Let me be fearless when I go into battle."

The book ends with passages from the works of relatively recent thinkers like Sri Aurobindo, making the book, in conclusion, an excellent overview of the rich wisdom traditions of India.