Book Reviews - Ingredients for a balanced life
by Vijaylakshmi Nadar
Life Lessons for Women, Author: Jack Canfield, Mark Victor Hansen, Stephanie Marston, Published By: Jaico,Pages: 296, Rs 250.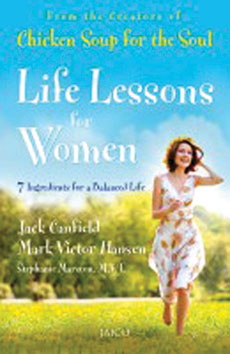 As women, we are quick to accept and execute challenges which involve both our inner circle (parents, husband and children) and our outer circle (friends, colleagues). And yet when it comes to our own self, the challenges are pushed away to a further date, with absolutely no deadlines.

If you are one of such women who have put themselves, their dreams, desires, goals, and joys on the back burner, Life Lessons for Women nudges you to bring your life into focus, wherever you are in life right now.

The latest book from the Chicken Soup for the Soul stable, is a light read strewn with little gems of wisdom like "It's actually less important to understand the meaning of life than it is to understand the meaning of your life", almost on every page, propelling you to take steps now, one small change at a time.

Scripted in the same format at their highly
Long-term change requires looking honestly at our lives and realising that it's nice to be needed but not at the expense of our health, our happiness and our sanity.
Ellen Sue Stern
successful series, Life Lessons for Women too has little heart-warming, inspirational stories, but lest you get too caught up in it, there are little pointers in boxes, on how you can use the story as a guiding light. In case you still miss the point, there is yet another box of questions, which you need to ask yourselves from time to time, like "What would I secretly like to do if I stopped considering other people's expectation and opinion? Why aren't I doing it?" or "Who am I trying to please?" "What price am I paying?" Just the kind of book you need to re-shape and re-structure your life.