Book Reviews - Lessons from the diva
Shobha at Sixty,Secret of getting it right at any age; Author: Shobhaa De; Published by: Hay House; Pages: 212; Rs. 350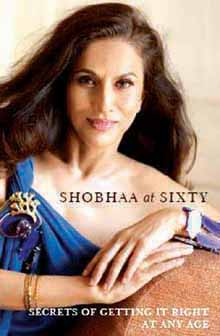 There are few people as equipped to write about aging gracefully as Shobha De. I first met her when I became editor of Society magazine in 1990. I was then 33 and she was 43. At that time, I looked younger than she did. Last year, we met at the launch of my book, Travelling Light, a good 19 years later. I looked my 52 years. She looked exactly as she had at 43.

Shobhaa at Sixty offers a candid bird's eye-view into the author's life, mind and attitude as she crested the 60 milestone. She admits to a mild panic attack on doing so, to having undergone a small operation, to having knees that caved in during her 50s – confessions a little reassuring to all those intimidated by her imperviousness to time.

Still, at 60, the lady has her hair, skin, teeth and even eyesight unblemished and she generously shares her tips on why so. What stands out is her discipline. At 18 or so she sternly told herself to take care of her hair, body, skin and teeth since she would not get replacements. And she did, keeping her skin scrupulously clean, exercising regularly and eating with what seems like unearthly restraint. Her daily diet, quite frankly, made me blanche. Black tea, one toast, five almonds and half-a-glass of veg soup for breakfast, and little or no lunch, save a lassi or a soup. Dinner thankfully is normal, but even here restraint rules – she never has more than two chappatis. All I can say is that she deserves her enviable figure. I, for one, must have my three meals.

The book freewheels into many territories other than body maintenance. Menopause for instance, retirement, dealing with low self-esteem and yes, sex. Old age, she argues persuasively, is no reason to give up on an active sexual life. What happens to those whose partners have left them? Her rather controversial (or is it progressive?) suggestion is that people are entitled to meet their physical needs as they wish and conservative society should back off.

The book does ramble on occasions, though, and most of the advice seems to be off-the-cuff with little evidence of research or expertise. What is inspiring is her capacity to live life with discipline and moderation, which is surely at the root of her good health, looks and success.