Book Reviews - Little master of meditation
by Satish Purohit
Buddhist Meditation, Author: Venerable Samdhong Rinpoche, Published By: Wisdom Tree,Pages: 127, Rs 145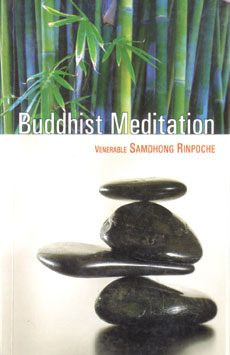 This is a small book on a much-commented on subject. It does, however, have several simple and no-nonsense jewels to offer to rookie meditators like me. The author begins his exposition on what meditation is. He explains how to train a wavering mind, to look inwards steadily.

In the opening chapter, Rinpoche says, a meditator of many years may be as miserable as anyone else, he may be as restless, as tired, as frustrated as anyone else. One should not, he adds, pursue meditation for goals that can be better achieved with some sleeping pills. "In the Sanskritic tradition meditation has two aspects, dharana and bhavana. Dharana means to concentrate and bhavana to ponder, to think upon, investigate, analyse. So real meditation must consist of these two parts – one-pointedness and the power of analysing."

This section is followed by one on the Tibetan meditation schools and the noble eight-fold path outlined by the Buddha. It emphasises the need for right intention, right livelihood and right speech and right posture for the meditator.

The next two chapters focus on choosing an appropriate object of concentration and the obstacles a new meditator should expect on the path. Rinpoche says one may use a picture of the Buddha as the focus of one's meditation in order to achieve concentration. He advises that meditators wear loose, comfortable clothing.

These are practical tips. The book also delineates the distinct standpoint of Buddhism in relation to other schools of Indian spiritual thought – there is no atma or self. While other Indic traditions say suffering stems from not realising the self, Buddhism says 'there is no such thing as an independent, unchangeable and permanent atma'. This illusion of self, according to Rinpoche, is the root cause of suffering.

If a brief unsentimental, un-esoteric, no-nonsense instructional manual on Buddhist meditation is what you are looking for, this might just be it.