Book Reviews - Roots and Wings, a handbook for Parents
Roots and Wings, Publisher: Rupa and Co., Year of publication : 2008, Pages : 396, Price : Rs. 295, Author : Raksha Bharadia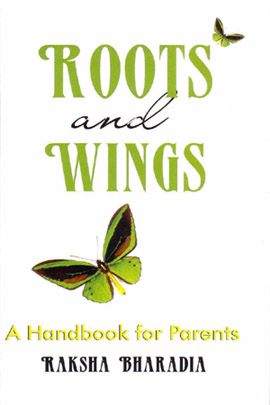 "Just because I was born a few decades before my children, it does not mean I am wiser than they are on every account….," says Javed Akhtar in the section on Creativity in Raksha Bharadia's book, "Roots and Wings, " published by Rupa and Co. This is just one of the many insightful experiences that Raksha quotes in her book filled with researched material and tips on nurturing creativity, social skills, sensitivity to nature, reading, sports, self esteem and life skills.

The chief purpose of the book is to bring home the fact that while most parents do try their utmost to facilitate that 'best' in their children, there are a lot of children today struggling with- low self–esteem, anxiety and packed-schedules leading to burn-outs, stress, loneliness, boredom, obesity, depression, and other issues. Why does this happen ? The author explains how it could be because very often, parenting is so loaded with expectations that the natural endowments, interests and strengths of the child is ignored, or even stifled. The omnipresent fear, 'will my child carve a successful and happy life in this fast-paced over-competitive global world' influences and shapes most parenting strategies, with parents transferring all their anxieties to their children.

Fortunately, the book does not just sound a warning but gives practical tips and suggestions on how to provide a congenial environment for that learning and growth and shares the experiences of many parents who have been able to do so. And these simple tips can surely be applied by most parents who are looking for guidance on teaching children how to deal with a fast moving world.

However, though a lot of research has gone into the book, most of the examples are from the upper strata of society and the focus of the book is clearly the middle class and upper middle class parent and child. One wishes the author had taken a slightly broader canvas with insights from all sections of society, thus bringing in the universality of the issues children face today. Perhaps, this could be taken as a constructive suggestion for the author's future writings.