Book Reviews - Mantras for a fulfilling life
by Shivi Verma
The Secret Letters of the Monk who sold the Ferrari, Author: Robin Sharma, Published By: Jaico Books, Pages : 223, Rs. 250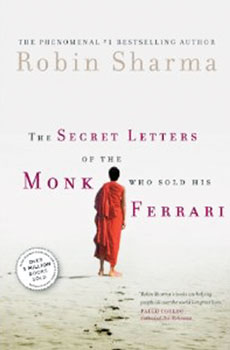 This world is a place for learning. But 'how' is the precursor to 'what' and is often more important too.

The Secret letters of the Monk who sold his Ferrari by Robin Sharma is one such intriguing tale where the protagonist Jonathan Landry is exposed to the empirical wisdom of sages and masters, in the most amazing, unconventional yet logical and befitting manner.

Jonathan is an upwardly mobile executive in a big automobile engineering firm. Yet he is unhappy with his sales job and is undergoing a trial separation from his wife and son to enable him to fix his priorities better...but even that does not seem to be helping him.

Julian, a distant cousin of Jonathan, summons him. All that Jonathan remembers of Julian is his big Ferrari and flashy lifestyle that he gave up one fine day to go to the Himalayas in search of truth.

Jonathan is puzzled to see a transformed Julian. Julian sends him on an assignment to gather nine talismans which he received from his teachers, and which are deposited with nine people in nine parts of the world. He needs them to save a life.

What follows is a rivetting tale as Jonathan travels from Istanbul to Paris, Kyoto in Japan to Mayan ruins in Mexico, Barcelona in Spain, glittering Shanghai and finally the beauteous Taj in India. He meets the oddest and most unique people whose lives mirror the message in the letters that accompanies each talisman they hand over to him.

By the time Jonathan reaches home he too is transformed. He knows where he has floundered and what the real purpose of life is. Obviously his was the life Julian wanted to save.

This is the sixth book by Robin in the monk series, and as usual it combines human drama with a seach for wisdom and truth. Robin's prose is simple but the letters give the book much-needed depth and insight.