Book Reviews - Mirror on the self
by Satish Purohit
Flight Of The Alone To The Alone- Talks On The Kaivalya, Author: Upanishad Osho, Published By: Penguin, Rs. 499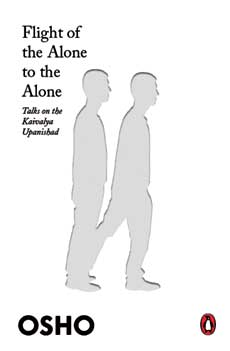 This is one of those Osho books that are a prayag, a confluence of sorts, where the river of the ineffable, meditative and transcendent silence meets garrulous cerebration. The book, a collection of talks on the Kaivalya Upanishad, speaks of the path to and the experience of kaivalya, the transcendental state that is the purpose of life.

The book travels the classic Osho route. He explains that the prayer with which the Upanishad begins 'May all the limbs of my body grow strong. May my speech be nourished and strengthened. May my nose, my eyes, my ears and my other sense organs be nourished and strengthened' forms the platform for his advice to seekers to embrace the senses and not treat them like enemies.
Bus naam rahega Allah ka Jo ghayab bhi hai haazir bhi Jo manzar bhi hai, nazir bhi
Nothing shall prevail but Allah's name, Who is invisible and also omnipresent. Who is the field and the field-knower.
Faiz Ahmed Faiz
Osho takes a step forward against conventional advice that warns against the perils of wine, women and song and proposes instead that it is not only possible to integrate Zorba the libertine with the Buddha but also desirable. The path to liberation, in other words, could pass through the mansion of sensual pleasures. Of course, he also advises against falling prey to the soporific-tamasic nature of all sensual enjoyment that is not accompanied by the attitude of dispassionate watchfulness or sakshi bhava.
Only the penetrating gaze of sakshi bhava can help one break the spell of maya, or hypnosis that arrests the ability of our minds to perceive the truth and the freedom that is ours to have.