Book Reviews - Money cant buy you all
by Satish Purohit
The Myth Called Wealth - A Spiritual Key to True Richness, Author: Rajesh Bhaskar Wattamwar, Published By: Mehta Pulishing House, Pages: 108, Rs 150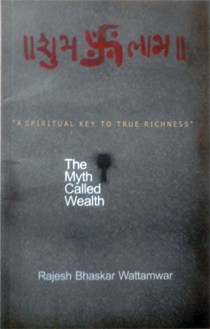 Somewhere towards the end of this book, Wattamwar illustrates the beautiful connection between renouncing and freedom. A crow flying with a piece of meat in its beak is chased by other hungry crows. Then the first crow decides to let go of the meat and the others dive to the ground and leave him alone. Freedom! This is just one of many gems used by the author to illustrate the futility of chasing money for money's sake.

Wattamwar begins by reminding the reader that happiness stems not from possession of the objects of our desire. It come from whatever it is that we allow ourselves to be happy with. A man whose gold has been stolen continues to derive satisfaction and probably some pleasure from the knowledge of the gold in his locker. It is only when he learns that his own son has done him in that he feels sorry for his loss.

Wattamwar quotes Heraclitus who Buddha-like declared that one can't enter the same river twice. The water that one touched once has flown by, the banks have shifted, the bed of the river has new pebbles and it has eroded some more. Such, says the author, is the nature of the world. What we see as beautiful and long to possess is a dynamic composite of many elements that are themselves composites. Nothing in the phenomenal world is permanent. Everything changes. What then, asks Wattamwar, is the point in blindly hoarding wealth? Possession is an illusion. It is notional. It does not guarantee happiness.

That Wattamwar has a fine mind is borne by the essay. The faults, and there are many, including typos, inelegant sentence constructions and misspellings. However, despite the bloopers strewn across the pages, the book manages to be stimulating. It is a clear case of substance triumphing over style, editing and grammar.