Book Reviews - Natural Way to Health
by T. A. Basubramanian
The One Plan - A Week-by-Week Guide to Restoring Your Natural Health and Happiness, Author: Yogi Cameron Alborzian, HarperCollins, Pages : 310 pages, Price : INR 399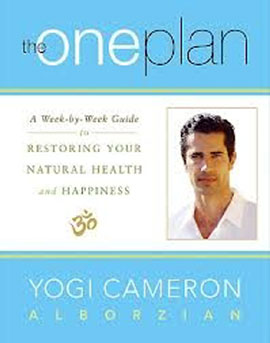 There are many self-help books that recommend paths to health and happiness based on different assortments of personal practices, exercises and diets – often taken from different sources that the authors believe represent the essence of their knowledge and experience, packaged conveniently for today. But could there be one lifestyle plan that packs all the benefits of a short-term health review but with the moorings necessary to ensure that it's the last programme that you'll ever need?

Yogi Cameron Alborzian seriously believes that what he offers in this book is just that. He sets out a formal regimen to help you balance a hectic lifestyle or just to get relief from stresses in various forms. Cameron moved out of the glitzy world of high fashion to seek the path less travelled. He studied ayurveda at Arsha Yoga in India and completed the training at the Integral Yoga Institute in New York City. Since then, he has worked with clients throughout the world as a personal therapist.

The 'One Plan' that Cameron lays out is a set of neatly prescribed 52-week step-wise progression of habits and exercises adapted broadly from Patanjali's yoga teachings and from ayurveda. It draws upon the many proven practices of ancient times, but is clearly simplified and adapted to take the nature of life in the modern world into account.

It covers a series of yoga exercises and focused meditation regimens for designing a restorative daily routine – pointers for becoming truly adept and grounded in that routine, real-life stories and inspirational ideas, practical tools for responding to life's daily challenges and setbacks, and finally a section on eating based on ayurveda.

Could this be the 'One Plan' for you? Designed as a well-structured handy guide for those seriously interested in taking up an alternative lifestyle, this programme nevertheless requires a rare degree of commitment and effort if it is to be successfully integrated into your life. The practices drawn from yoga are particularly rigorous and it would probably help if you were already exposed to some of these earlier and if you are seeking to make it all into a condensed workout.