Book Reviews - Alternative Schooling in India - New temples of hope
Sarojini Vittachi, Neeraja Raghavan and Kiran Raj, Sage publications, 267 pages; Rs 360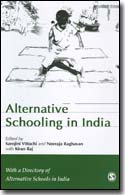 "Honesty, a capacity to be open-minded, and will power are the three qualities that a person needs to lead a successful life." So says Avinash in this book in an interview.

Avinash is a professional artist who studied in the Valley School and then the Centre for Learning (CFL). He acknowledges that much of his attitude comes from his schooling, from the fact that his early life did not revolve around competitions and achievements but helped him begin an inward journey to explore life. Wouldn't most parents want their children to have schooling like that?

For want of a better word, the word 'alternative' encompasses a wide array of schools that aim to make learning fun, education without pressure, and encourage imagination and creativity, and provide an environment that allows children to bloom.

This much-needed book highlights the efforts of those Indian schools that are attempting to do just that. They do it innovatively, making the learning process fun for the teacher as well as the taught, in contrast to the grind of exam-centred learning practised in mainstream schools. That the editors are educationists and are fully aware of the challenges of these schools is evident in the thorough analysis presented through exclusive articles by leading practitioners presenting varying perspectives on alternative education.

The book traces the growth of alternative education in India, reminding us that stalwarts like Tagore, Gandhi, Jyotiba Phule, Jiddu Krishnamurti, Sri Aurobindo and the Mother realised the importance of education in the development of the individual and, therefore, of the nation. It offers interesting insights of what happens when a certain philosophy is applied to a school, and experiential accounts of the impact that such practices have on the student, teacher and even, the parent. It also examines the many efforts to add value to mainstream education through innovative methods after school hours. Not surprisingly, one notices a clear concern for the welfare of the child in the teachers who see their work as much more than merely a job in a school.

A valuable part of the book is the directory of alternative schools, many in remote corners of the country.

Professor Krishna Kumar, the Director of NCERT, while expressing his appreciation of the book in the foreword, ends on a hopeful note with the words, "Usually, it is stories of this kind that foretell the future."

I am sure many parents sincerely wish his words come true, and soon.