Book Reviews - Nuggets of wisdom
Chicken Soup for the Indian Spiritual Soul; Author: Jack Canfiled, Mark Victor Hansen and Veena Seshadri; Published by: Westland Publishers; Rs. 295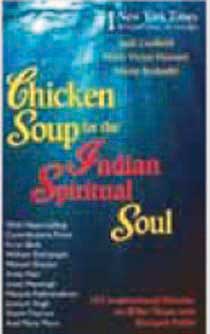 I don't think you can be a deeply ecological person without being a deeply spiritual one," says Vandana Shiva, sharing her journey of saving seeds from being patented. She is clear that her struggle against powerful corporates is sustained by her practice of the Bhagvad Gita's teaching of detached action.

Kiran Bedi talks of the transformation of a dismal prison to a place that redeemed the spirit through Vipassana.

"They say if you want your prayer answered, you must pray both at the temple and church as the two deities are sisters," says Susheela, a young lady in William Darymple 's story of religious fusion in Kerala. Mini Krishnan talks of how her faith in Christ and in the universe was strengthened in the convent school she studied in, and that she is happy to combine Vedanta along with her faith in Christ as her Ishta Devta. Ex-president Abdul Kalam talks of the power of faith and love his mother gave him, without which he could not have achieved what he did.

"Today, everyone looks only at the externals. No one is interested in the inner reality. Even the religious leaders have reduced God to what is written in this book or that. You see, my saint believed in the religion of the heart, not of the book," says a person running a cycle repair shop near a little known dargah. Explaining that perhaps the book had been writ on his heart itself, he gives the writer Makarand Deshpande, an indelible glimpse of the Divine through his faith and equanimity. Most of us have read many books in the Chicken Soup series.

What makes this volume unique, though, is its celebration of the timeless wisdom and diversity of beliefs that have shaped India's spiritual heritage. The 101 stories in this volume, edited by Veena Seshadri, urges all of us to relate to the spiritual being in all of us, be it in a common man or an eminent person.

Read it to energise yourself and remind yourself that God is all around us, if only we view the world around with spiritual lens.