Book Reviews - Of God and us
Happier Than God, Neale Donald Walsch, Published By: Jaico Publishing House, Pages:260 pages,Rs.: 250

Download PDF Format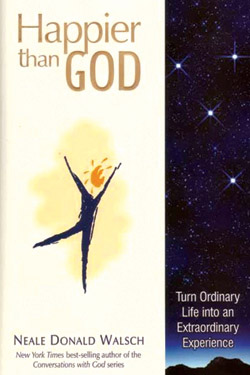 Neale Donald Walsch, the bestselling author of the Conversations with God series, has written a book about happiness called Happier Than God. This book aims to corroborate his earlier books about unity theology along with an indepth explanation of the law of attraction, or, as he likes to call it, personal creation.

Since God is always with us, there isnít a moment in which we need Him, or are away from Him. God also is the system that regulates the universal laws, and the laws themselves. ďThe eternal cycle of process/ expression/ experience is Divinity itself. It is God, godding.Ē Instead of using the law of attraction for personal gains, its deeper use is for helping others. Feelings and not words control what we attract, and gratitude is the most beneficial feeling we can have.

Walsch goes into details of different processes involved in manifesting; the concept of unity and how it affects everything we think, say or do; timelessness Ė being here and now; nature of God; and collective consciousness

Only an author like Neale Donald Walsch can publish a book with such an unbelievable title and then make you believe that it isnít that hard to do. The happiness heís referring to here is deep spiritual happiness. He isnít referring to material gains or success but living a life of joy and contentment. For those who have read his earlier books, this one is a must-have since it deals with contemporary spiritual and moral issues in his gentle and clear style; if you havenít read any of his books, hereís a great way to be happier than God.