Book Reviews - One With The Cosmos
by Life Positive
The Cosmic Detective,Author: Dr Mani Bhaumik, Penguin, Pages: 92, Price: 199

Download PDF Format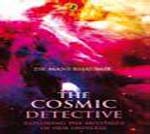 The Cosmic Detective Dr Mani Bhaumik, the co-inventor of the laser technology that made LASIK eye surgery possible, has penned another exciting new book – The Cosmic Detective, after his international bestseller, Code Name God. He takes the readers on a whirlwind tour into space, millions of light years away, through his graphic scientific account of the cosmos, supported by the rarest of rare pictures of planets, stars and galaxies. There can be no better book giving larger views and insights about the magnificence of our universe than this one. He has addressed all the fundamental cosmic riddles which ignite the curiosity of young as well as mature minds, with scientific precision.

Born on a mud floor in Bengal in the midst of the struggle for Indian independence, Bhaumik highlights the primary message that we have all come from one single source. Today, we may belong to different nations and follow numerous faiths and religions but our origin is from the same seed. We are all cosmic kin tied from our birth to the sun, the stars, the planets, the moons and the whole universe itself. He endorses the statement of Albert Einstein that each one of us is at the centre of the Universe. The very reason for the creation of the universe 13.7 billion years ago is connected to our eventual emergence. He talks about the metaphysical aspect of this wonderful discovery by stating that there are two miracles: one is the existence of the unfailing Laws of Nature, and the other is the ability of the human mind to divine them. He urges us to listen to the song of oneness among the innumerable stars and hope their song will unite with our own to finally banish the ignorance that causes prejudice and war in our fractious world today.

A must read for all seekers of spiritual wisdom who wish to have scientific proof of the spiritual laws of life.