Book Reviews - Painting the world green
50 Simple Steps to Save the Earth from Global Warming; Author: The Green Patriot Working Group; Published by: Jaico Publishing House; Pages: 163; Rs. 250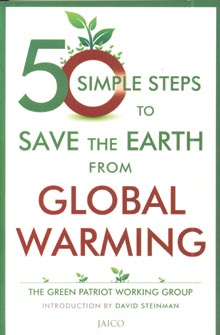 Global warming is such a large phenomenon that individuals may feel helpless against it. It is important to understand that it is these very same individuals who, through their collective efforts, caused it. So it is for everyone to do her or his part which is exactly what this book shows us. When it comes to the environment, it's never too late to start and no price is too high. When we realise what is at stake, we will see the broader picture where our future and our planet are included. Books on global warming are getting increasingly popular and this shows the movement we are directing our energy towards.

The Green Patriot Working Group is a dedicated group of concerned citizens working to build a safe, secure future through environmental sustainability, led by David Steinman. The book enlists a variety of different steps to lessen the warming, such as going vegetarian for a day, buying locally grown products, unplugging electrical appliances, encouraging fair trade, composting garbage, greening up your living or work space, using green energy, planting trees and many more. Some of these like taking an eco-vacation, drinking organic wine and buying an organic mattress were new and captivating for me. Although most of the websites, stores and organisations mentioned in the book are in the US, we can look for similar institutions in our homeland as well.

This book shifts the onus of reducing global warming on everyone. No longer can governments be single-handedly blamed for the change. I found this book interesting because it showed me the methods which I can adopt myself. I donít have to petition the government or criticise developed countries, I have to rely on myself. On the whole, a practical guidebook to saving the planet.