Book Reviews - Peace on Earth
Curious Lives - Adventure Fables from an Enchanting World, Author: Richard Bach, Published By: Jaico books, Pages : 371, Paperback, Price : Rs. 295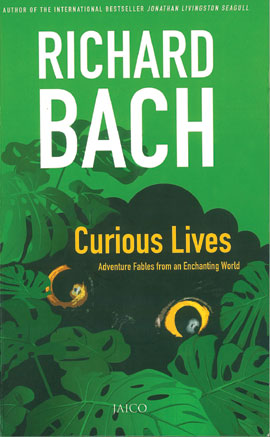 One of our foremost writers of spiritual fiction is at it again. Using his imagination to envision a world without evil, a world that operates on Courtesies, where everyone lives according to their highest values. A world which has encoded the code of loving thy neighbour as oneself and preferring to harm oneself before harming the other. What would such a world be like? Going by this book, it would be alive with life and aflame with adventure, full of friendly, loving companions who operate as one family. It is only an enchanting fact that this world is, in fact, inhabited by ferrets (small furry creatures considered to be very similar to polecats).

Richard Bach's Curious Lives, is, as always, an allegory on the human situation. It explores the power of possibilities, the gift of the imagination to envision a new future for mankind, and one person's capacity to change the nature of the world by refusing to side with evil or hate.

In the best traditions of magical realism, Bach even creates a language for these ferrets called Ferrune and a history. Legend has it that the ferrets came to Earth millions of years ago and established this Utopian civilisation. The book explores the adventures of these wise beings through delightful fables that at the same time stirs in the reader the longing for amity and peace that is encoded in all of us but has still not come into being.

At the centre of each fable is one special person through whose courage and intuition, magic comes forth. In the first tale we meet Shamrock Ferret, an intuitive detective able through her powers of psychometry, logic, deduction and cryptology, to penetrate every mystery. This leads her eventually to solve the biggest mystery of all – the mystery of where they came from and the source behind the Courtesies on which their lives are based.

Through his masterly capacity to draw up details as well as soul, Bach has created a collection of tales that speaks to the highest and best in all of us. I am a sucker for this!