Book Reviews - Pointing the way to a Utopian life
by T. A. Basubramanian
The Laws of Happiness - The Four Principles for a Successful Life, Author: Ryuho Okawa, Published By: Jaico Publishing House, Pages : 190, Paperback, Rs. 250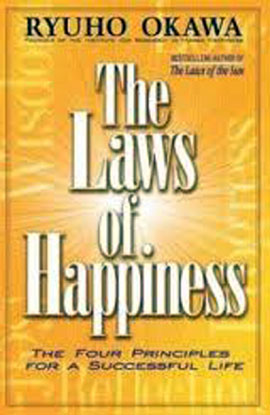 If this world becomes a utopia, hell will diminish."

Master Ryuho Okawa believes he can guide the world to such a utopia.

Born in 1956 in Tokushima, Japan, Okawa is the founder of 'Happy Science' – an apt name for the spiritual foundation (one of many Japanese new religions, or shinshukyo) that promotes his chosen vision. According to Wikipedia, Okawa claims to channel the spirits of Muhammad, Christ, Buddha and Confucius and claims to be the incarnation of the supreme spiritual being called El Cantare.

Happy Science claims that El Cantare is the true hidden name of the Heavenly Father in the Old Testament. He has written more than five hundred books, including The Laws of the Sun, The Golden Laws, The Laws of Eternity and The Essence of Buddha.

In this, his eighth volume in the series of books describing the 'laws' that he has formulated, Okawa presents homespun advice – based on his own experiences on how one can master the principles of the modern Fourfold Path, or The Four Principles of Happiness – Love, Wisdom, Self–Reflection, and Progress.

The principles are explained in very simplistic terms that border on popular psychology. For example, the 'principle' of love is described as 'freeing yourself from the suffering of taking love' with tips for overcoming the dissatisfaction of childhood non-appreciation by parents, bosses or society. "Be thankful for what you have been given" is one such tip.

The other principles are similarly explained in terms of practical 'tips'. Wisdom ["If you have time to bemoan your ignorance, use it to study."], Self-reflection ["Cuts off negative spiritual influences," supported with "How to eradicate attachments"] and Progress [combining the influence of love, wisdom and self-reflection in an ongoing journey] are given as stepping stones for entering 'the Age of the Sun'.

What is the basis of Okawa's advice? As he puts it, "What are the laws of the mind? Sometimes I draw them in an inductive way, from individual examples … while at other times, I state in a deductive way, 'This is the will of God or Buddha, so we should live in this way to achieve happiness.' Although I use both methods, everything is centered around the laws of the mind."

Is this a packaged programme for utopia? It is for the reader to decide what to assimilate and what to test and validate in their own lives, drawing from these various strands of advice that Okawa believes will lead to true happiness.